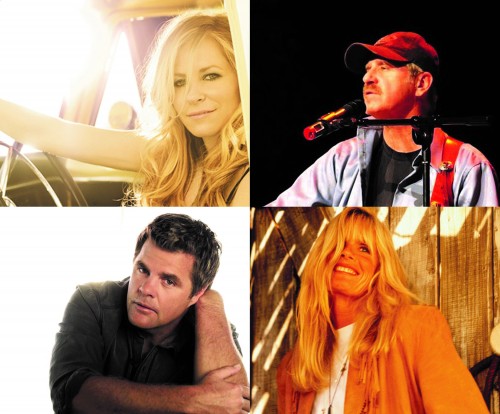 Join some of the music industry's best songwriters on March 24 at 7:30 p.m. at the Bologna Performing Arts Center. "The Heart Behind the Music" singer-songwriter showcase will feature performances and a behind-the-scenes look at some of the greatest music ever written.
The tour will include Deana Carter, whose career spans from her first GRAMMY-nominated big hit, "Strawberry Wine," to 2012's GRAMMY and CMA nominated song of the year, "You and Tequila", co-written by Carter and recorded by Kenny Chesney. Carter is joined by two-time GRAMMY award winner Kim Carnes, known for "Bette Davis Eyes" and the numerous hits she has written for Barbra Streisand, Kenny Rogers, Tim McGra, and many other well-known singers.
Also along for the ride is John Ford Coley, half the GRAMMY nominated duo England Dan & John Ford Coley, and best known for the hit "I'd Really Love to See You Tonight." Also taking the stage is Richie McDonald, lead singer of the hit country group Lonestar. McDonald is the voice behind songs like "Amazed," "Smile" and "No News," as well as the pen behind songs like "My Front Porch Looking In" and "Let Them Be Little."
Special guest Greg Barnhill is also joining the tour. Barnhill has penned such hits as "House of Love" for Amy Grant and Vince Gill as well as "Walkaway Joe," a duet by Trisha Yearwood and Don Henley.
Tickets start at $25 and are available online at www.bolognapac.com or at the BPAC Ticket Office, 662-846-4626.