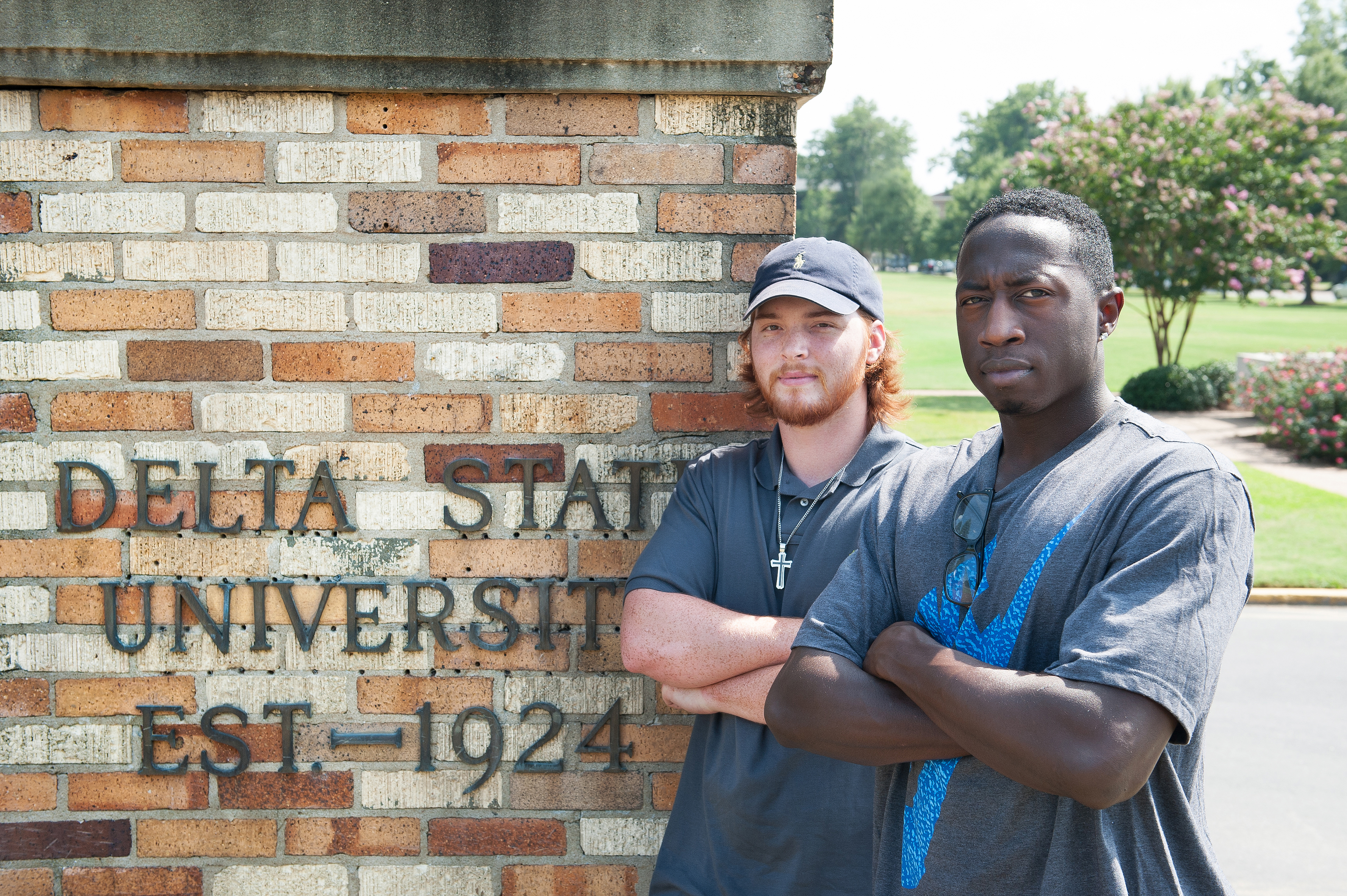 The Fighting Okra just has a way of reuniting people — and two incoming transfers could attest to that at Delta State's Move-In-Day earlier this month.
Two small-town Mississippians were both thrilled and shocked to reconnect at the annual kickoff for the new academic year.
Transferring juniors Broderick Lamb and Kenton Bounds, childhood friends from Puckett, Miss., had lost touch for about four years before Alumni Affairs Director Jeffrey Farris reunited the duo after meeting them separately on Move-In-Day.
Not a bad connection considering Puckett truly is a small town with less than 500 residents.
Farris, one of the many faculty, staff, alumni and community members who helped move students into their living quarters at the event, said bringing the friends together was a special moment.
"Reconnecting takes place not only through alumni work, but also within the student body," said Farris. "This is truly a success story for Delta State University and for the current students involved."
The Puckett natives could not believe the surprise Farris had in store.
"I definitely didn't expect it when Mr. Farris told me he just met someone else from Puckett," said Bounds. "When Broderick walked in, it blew my mind."
Lamb was also excited to hear Farris' description of an old friend.
"When he said he just met a tall redhead from Puckett, I knew it had to be Kenton," said Lamb. "At first I thought I wasn't going to recognize anyone, and it was really cool to see him again."
"I told my mom about Kenton going here too and she was so surprised. She got really excited when I told her the school wanted to write a story about us."
Growing up, the friends would hang out, run track together and even face off in some memorable paintball battles.
The two went their separate ways after high school, and between them, tried making it work at Hinds Community College, Holmes Community College and Mississippi University for Women.
Bounds, now studying business marketing, and Lamb, majoring in physical therapy, seem to have found the right environment at Delta State.
"It can be hard to find a college that suits you — one that has everything you want," said Bounds. "I haven't been here long, but so far so good."
"I like everything so far," added Lamb. "The campus is really nice and everyone seems laid back. There's always something going on."
Both are committed to finishing their degrees at Delta State and are willing to put in the extra effort to succeed in green and white. Lamb is training hard with aspirations of walking on to the basketball team, while Bounds said his focus is academics as he hopes to maintain a Phi Theta Kappa scholarship.
Almost three hours from home, the childhood pals are happy with their fresh start at Delta State and hope of walking at graduation together one day. For the meantime, they are looking forward to rebuilding an old friendship and supporting each other at their new campus.
"We hang out almost every day," said Bounds. "It's nice having an old friend around — if a friend asks you for a favor, you're not going to turn them down."
"It would be pretty special if we could graduate together when this is all said and done," added Lamb. "It would be pretty big news in Puckett."