See What Your Future Can Hold at DSU
We're excited to have you visit Delta State University. Our campus is home to a variety of architectural styles and state-of-the-art buildings. But our campus is more than just beautiful—it's also a vibrant place to learn and grow. We offer a wide range of opportunities through our unique academic programs and strong focus on student life. In addition, we're also proud to be located in the city of Cleveland, Mississippi. Cleveland is a charming city with a rich history and culture and boasts a number of hometown restaurants and shops, making it a great place to explore and experience all that the Mississippi Delta has to offer.
We hope you'll join us for Delta State campus tours. Can't make it for an in-person visit? No worries. We also offer Delta State virtual tours. These sessions will give you a chance to learn more about Delta State, meet with our knowledgeable staff and ask any questions you may have. Whether in-person or virtually, we hope to see you soon!
Beautiful campus
Vibrant student life and activities
Located in one of Mississippi's Best Small Towns
Home of GRAMMY Museum® Mississippi
World-class performances at Bologna Performing Arts Center
Home of the only planetarium in Mississippi
The on-campus tour gave me a behind-the-scenes look at the DSU campus and student life. Being from out of state, I wanted to feel comfortable with my college decision, and I instantly felt at home here.

Robbie Evans

Class of 2024
Being able to have the opportunity to come on a visit here allowed me to experience the campus culture and get a feel for how special Delta State is. It made me fall in love with the school and the environment right away!

Tucker Schroer

Class of 2023
As a person who travels five hours away from her parents to attend Delta State, I can say that both the virtual and on campus tour were what made the decision for me and my parents. Being a child of Caribbean parents, they needed to ensure that I would further my education in a safe and productive environment, and all it took was one sunny November day on this campus for my parents to feel comfortable with me attending the beautiful university and for me to feel at home!

Daina Prout

Class of 2024
Personalized On-Campus Tours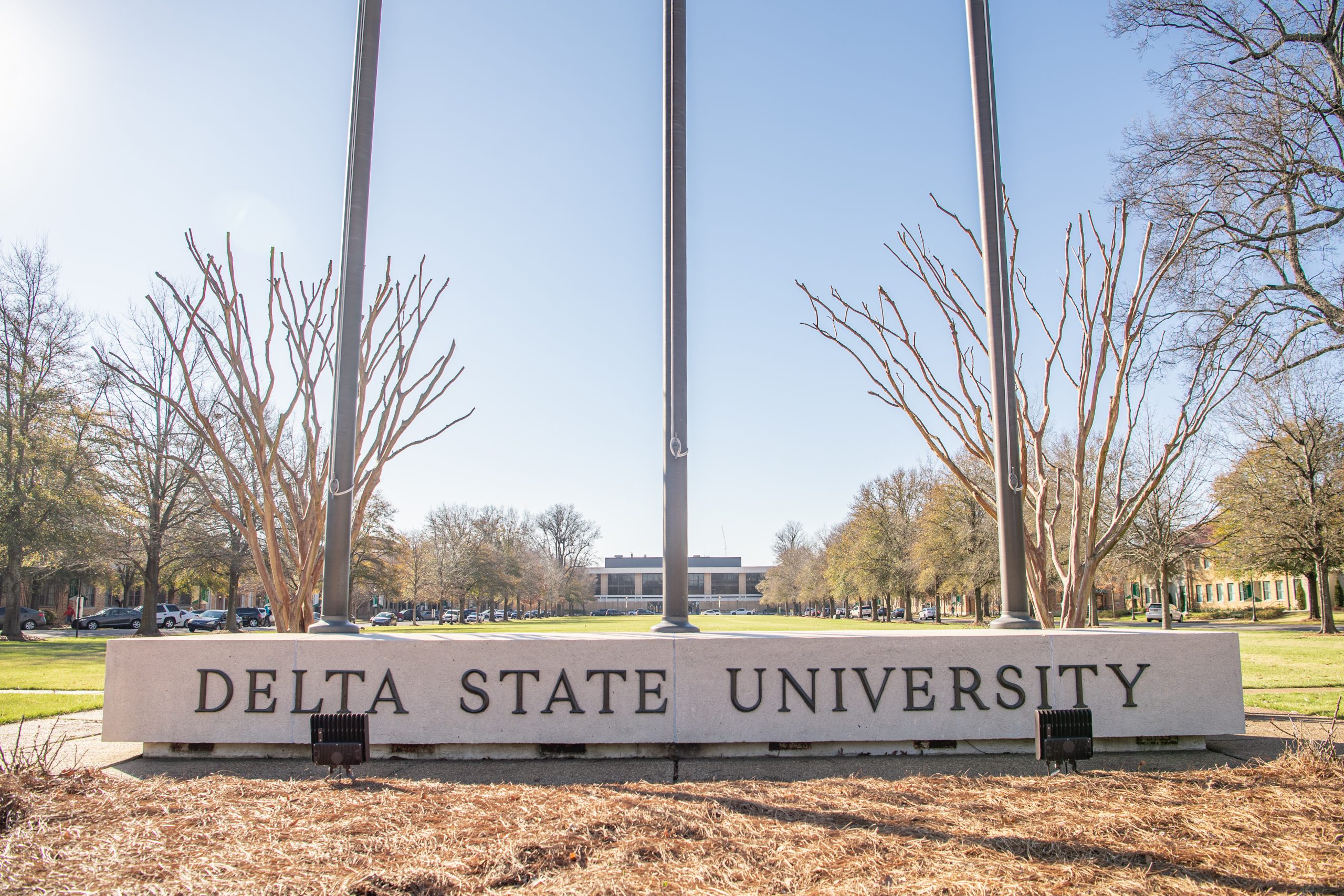 Experience Delta State with DSU campus tours. Your visits will be guided by a members of the Admissions teams—either a recruiter or one of our student leaders, Delta Diplomats. During the tours, you'll explore our main campus, including our iconic Quadrangle, the cafeteria, the student union and our residence halls. Group tours are also available for groups of 10 or more.
A-to-Z Virtual Live Tours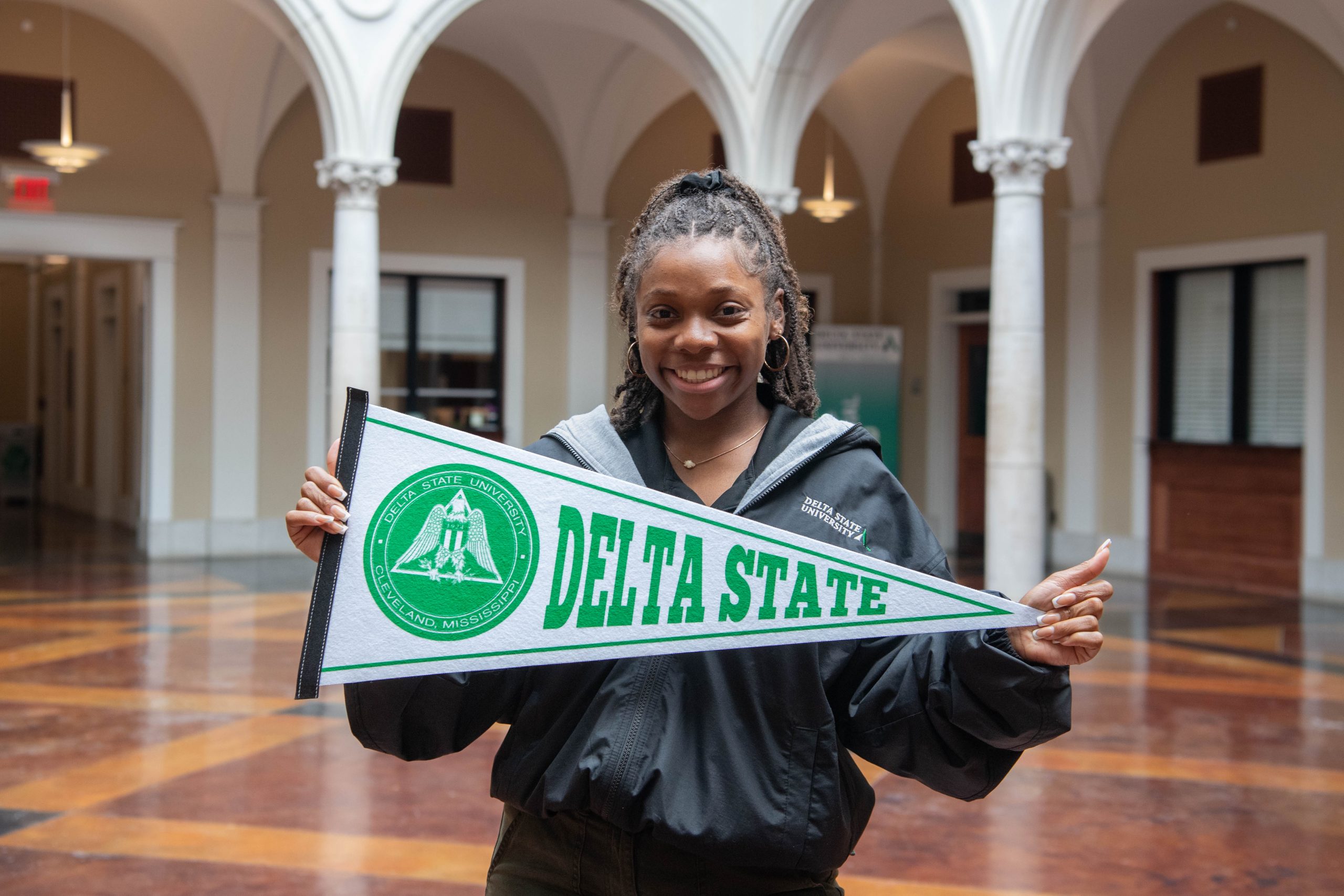 Get at look at Delta State no matter where you're located! During our DSU virtual tours, you'll have the chance to connect live with a Delta State recruiter or student leader to discuss all things Delta State, including academic programs, admission requirements, student life, and housing. For questions or more information, contact the Office of Admissions at (662) 846-4020.
Why Cleveland, Mississippi?
Located in the heart of the Mississippi Delta, Cleveland, Mississippi, is home of Delta State University.
Cleveland and the Delta State are closely intertwined, with each contributing to each other's character and sense of community. Cleveland adds to the character of Delta State by providing a unique and vibrant setting for students to live and learn. Our community is known for its welcoming spirit, and we strive to make our campus a place where every student feels at home. Cleveland's rich cultural heritage, commitment to community involvement, and thriving arts scene make it an ideal home for the university and its students. Likewise, Delta State University's academic excellence and community outreach efforts enhance the city's reputation and contribute to its overall vibrancy and growth.
Cleveland is located less than one hour from all the best things to do in the Mississippi Delta and is within driving distance to metropolitan areas like Memphis, Tenn., Jackson, Miss., and Little Rock, Ark. Delta State University adds a university-town vibe to the area, making Cleveland one Mississippi's best college towns.
To learn more about all that Cleveland has to offer, visit www.visitclevelandms.com.
To learn more about all that the Mississippi Delta has to offer, visit www.visitthedelta.com.
Memphis
Take US Highway 61 south to Cleveland. Once in Cleveland, turn west (right) onto MS Highway 8, travel 1 mile, Kent Wyatt Hall will be on your right. (Approximately 100 miles).
Jackson
Take US Highway 49 north to Indianola. Turn north (right) on MS Highway 448 to Shaw. Turn north (right) onto US Highway 61 to Cleveland. Once in Cleveland, turn west (left) onto MS Highway 8, travel 1 mile, Kent Wyatt Hall will be on your right. (Approximately 110 miles).
Vicksburg
Take US Highway 61 north to Cleveland (approximately 110 miles). Once in Cleveland, turn west (left) onto MS Highway 8, travel 1 mile, Kent Wyatt Hall will be on your right. (Approximately 110 miles).
Air Travelers
The closest regional airport is located in Greenville (45 miles) and is served by Northwest Airlink. International Airports are located in Memphis and Jackson.
Families Are Welcome at DSU
We believe that families who are actively involved in their students' education can help them succeed in college and beyond. That's why we offer ample opportunities for families to get involved at Delta State—from attending campus events to volunteering.
215 Cotton Row
Cleveland, MS 38732
(662) 843-7733
1300 Hwy 8
Cleveland, MS 38732
(662) 441-3901
912 North Davis Avenue
Cleveland, MS 38732
(662) 846-2915
808 North Davis Avenue
Cleveland, MS 38732
(662) 843-9300