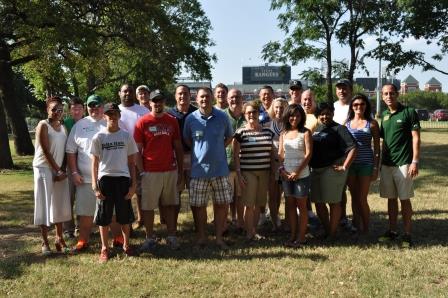 The Delta State University Alumni Association will travel to Dallas, Texas to host an alumni gathering in conjunction with the Statesmen football game at Cowboys Stadium. The Statesmen are participating in the Lone Star Football Festival, a three-day event set for September 12-14 at Cowboys Stadium in Arlington, Texas.
Delta State will play Texas A&M-Commerce Friday, September 13 at 5 p.m. For more information on the Lone Star Festival, visit the website www.lonestarconference.org.
The Alumni Association has arranged a tour of Cowboys Stadium at 10:30 a.m. Friday. The tour is $20 per person, and if you are interested, contact the Alumni office at 662-846-4660 or go to www.deltastategiving.org/alumniassociation/eventreservation.
The Alumni Association is also hosting a social at Club Lite, which is a field-level venue on the visitors' side of the stadium. The event will begin at 4:30 p.m. and be open throughout the game. Hotdogs and hamburgers will be served (limited amount available) and there will be a cash bar. The event is free to anyone attending the game. Game tickets can be purchased by contacting the DSU Athletic Department at 662-846-4300.
"This is a unique opportunity for our alumni to experience the Statesmen play in a world-class facility and compete in the annual Lone Star Conference Football Festival," said Jeffrey Farris, director of alumni affairs.
"We want to encourage everyone in the Dallas/Fort Worth area to attend this event and to join the Delta State Chapter in the area," said Jordan Thomas, assistant director of alumni affairs. "To learn more about this chapter, visit their Facebook page at Delta State University Dallas/Fort Worth Alumni Association."
For more information, contact the Alumni Association at 662-846-4660 or www.deltastate.edu/alumni. Follow the Alumni Association on our social media sites – Facebook: Statesmen Graduates; Twitter: @DSU_Alumni; Tumblr: www.dsualumni.tumblr.com; LinkedIn: DSU alumni; and You Tube: dsualumni1.
Join the event on Facebook: https://www.facebook.com/events/565887676781467/?notif_t=plan_user_invited.