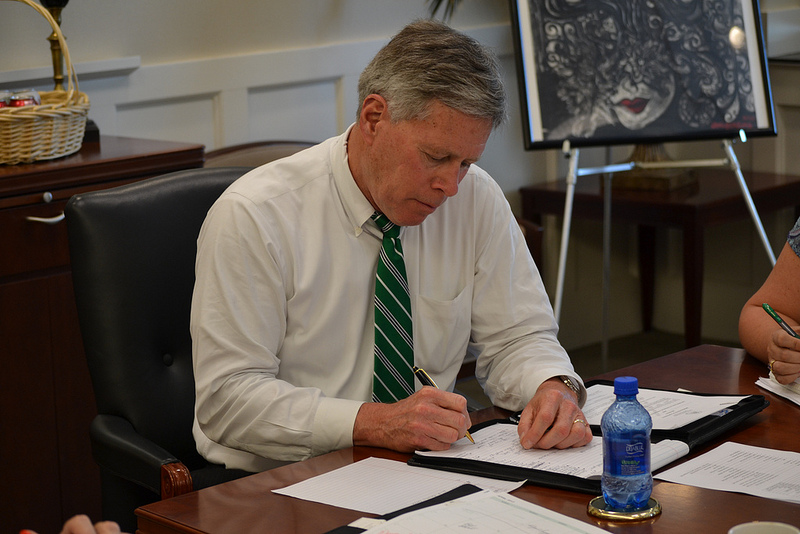 In the ever-advancing world of new media, Delta State President William N. LaForge is putting extra effort into establishing the university's media presence.
Staying up to date with the current trends, LaForge will continuously broadcast university initiatives on his presidential blog, Twitter account and weekly "Fireside Chat" videos to be posted online.
The goal of the campaign is to keep the public informed of the thriving activities taking place on campus, increasing awareness of Delta State
At a time when news spreads instantly through social media, LaForge felt it was necessary to create an atmosphere of engagement.
"As a university and personally, I believe it's important to have an open channel of communication with our major constituencies," said LaForge. "Our campus and local community need and deserve to know what's happening on campus, what plans are in place and where we are going."
The new blog, viewable at http://president.deltastate.edu, will serve as a central location for posting news, videos, photos and initiatives spearheaded by LaForge. It will also function as the information hub for the voice of the university — the president.
Blog content will also feature presidential addresses, a Twitter feed, guest entries, press releases involving the President and biographical and contact information.
In addition, notable meetings between the president and students, faculty, staff, alumni, community members, leaders and stakeholders will be published.
"We're hoping through a wide array of media outreach, both traditional and social in nature, that we can reach out to every possible audience and all campus activities can be engaged," he added.
Laforge can also be followed on his live Twitter account @presidentDSU, where he will compose engaging messages, share noteworthy photos and notify audiences of events and new occurrences.
The weekly Fireside Chat videos will encompass brief but informative updates straight from LaForge, and will be posted on Delta State's Facebook and Twitter pages, along with the president's blog and personal Twitter on Monday mornings.
LaForge felt the video format would help deliver messages in a personal, face-to-face feel communication method.
"These personal messages will allow me to keep people plugged in and express the highlights of our programs and activities to our audiences and stakeholders. I will also engage with other principals on campus on specific subject matter."
The progressive media campaign is just part of LaForge's larger vision to keep the outside world aware of the university's daily achievements.
"Delta State University doesn't exist in a vacuum — we want open channels for all of our outreach," he said.