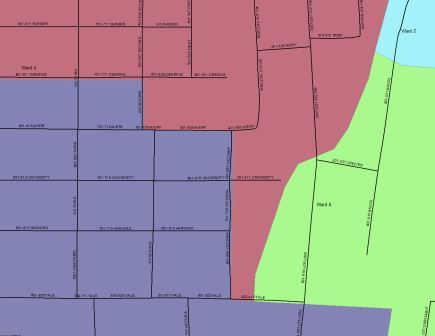 Maps and map data are an important, but often unrecognized, part of county and local government. The Center for Interdisciplinary Geospatial Information Technologies at Delta State University works with communities like Bolivar County so they may benefit from using maps and mapping technologies.
The Center first worked with the county in 2007 as part of the Phase II E-911 system installation.
Older E-911 technologies would only report the location of a land-line based caller as text on a computer screen. The location of cell phone callers could not be easily determined. Phase II changed that by adding location information to every emergency call and by providing emergency dispatchers with the ability to see a caller's location on a map.
Talbot Brooks, GIT Center director, said the upgrade was greatly needed for effective emergency response.
"Until that time, no electronic map contained all of the official street names and address ranges in the county," said Brooks. "This was, of course, problematic for emergency responders at times, especially when callers were not familiar with the area — as would happen with wrecks along Highway 61."
Brooks added that Debbie Duncan and Lisa Regan, both with the Bolivar County Election Commission, thought to leverage the initial E-911 mapping effort to further help with voting efforts. Regan also works as the Bolivar County E-911 Commission coordinator.
They worked with the GIT Center to produce an authoritative map of school districts, election precincts and other voter-themed map layers. The resulting map will help the election commissioners better understand and instruct voters about polling places and help candidates for office better understand their constituency.
Duncan and Regan have worked late into the evening in recent weeks updating these maps in preparation for upcoming events.
Ellis Turnage, Election Commission attorney, prompted the movement of these map layers from GIS software to the web in a push to make the information more readily available to the public.
Turnage's office sponsored the development of an online test environment currently under progress by the GIT Center.
Turnage advocates the expansion of the map to include land parcels, critical infrastructure such as major power and gas lines, updated aerial photography and other spatial data which would benefit both the public and private citizens.
Potential future uses, were the data collected and aligned into a master mapping application, would allow homeowners to view their land parcels with aerial photography in the background.
Other uses, which would help government deliver services more efficiently, might include the ability of real estate agents to use the system to perform "comps", help the Bolivar County Roads Department to inform the public of projects and road closures, and display event data such as past crimes and fires and similar activities.
If the Bolivar County Board of Supervisors approves further work, the county would be the first Delta county to do so. Such mapping systems are already in place in Harrison and Desoto counties where they are a fundamental tool for governance.
The mission of the Center for Interdisciplinary Geospatial Information Technologies at Delta State is to provide geospatial services, accessible education and training, and institutional knowledge for geospatial information technologies to the widest possible audience, and particularly, the mid-Delta region. To learn more, visit http://gis.deltastate.edu.