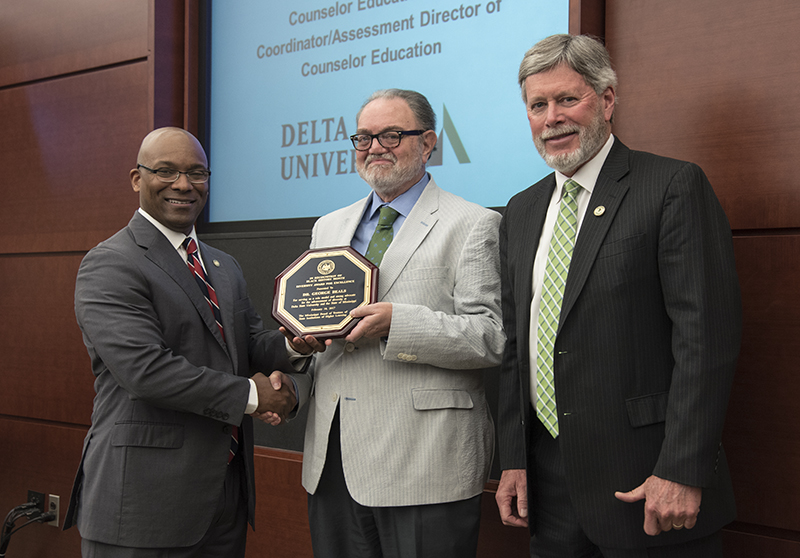 Dr. George Beals, center, receives the IHL Excellence in Diversity and Inclusive Award from trustee Shane Hooper (left) and Delta State President William N. LaForge.

The Mississippi Board of Trustees of the State Institutions of Higher Learning recently held its annual diversity celebration to recognize campus and community leaders for the impact they have made in advancing diversity and encouraging understanding and respect.
Dr. George Beals, assistant professor of counselor education, was selected as the Delta State University nominee for the IHL Excellence in Diversity and Inclusive Award. Beals is also the program coordinator/assessment director for the Division of Counselor Education and Psychology at Delta State.
"I am deeply honored and very humbled that my dean and colleagues appreciated my efforts around diversity," said Beals. "I think what they saw in me was the fact that my lens of diversity, inclusion and social justice is always a primary when focusing on programmatic efforts and teaching my classes. Being a part of DSU has always been a point of pride for me because we can boast that per capita, we are the most diverse campus in the state."
"Social justice is a value that is most primary in my interactions with others and with institutions," added Beals. "I hold the vision that the world can be an amazing place if we all work toward communicating with each other."
Among his many efforts on campus, Beals serves on both the Diversity Committee and the Winning The Race Conference Committee. He also provides diversity trainings including Safe-Space Training, and has led some diversity experiences for Delta State students as a part of the Diversity Efforts and the Quality Enhancement Program.  
Beals, who has taught at Delta State for eight years, received his doctorate in counselor education from Mississippi State University in 2007, and received his master's in community counseling, also from MSU, in 1995. Additionally, he is a member and current chapter advisor for Delta State's chapter of Chi Sigma Iota, the international honor society for students, professional counselors and counselor educators. He is also the recipient of the 2016 Janie G. Rugg Career Contributor by the Mississippi Counseling Association.
His academic interests include: personal growth and wellness of counselor trainees, experiential therapies across diverse populations, somatization of oppression, systems theories and interventions with community applications, and counseling theories and neurosciences.
The Mississippi Board of Trustees of State Institutions of Higher Learning governs the public universities in Mississippi, including Alcorn State University; Delta State University; Jackson State University; Mississippi State University including the Mississippi State University Division of Agriculture, Forestry and Veterinary Medicine; Mississippi University for Women; Mississippi Valley State University; the University of Mississippi including the University of Mississippi Medical Center; and the University of Southern Mississippi.