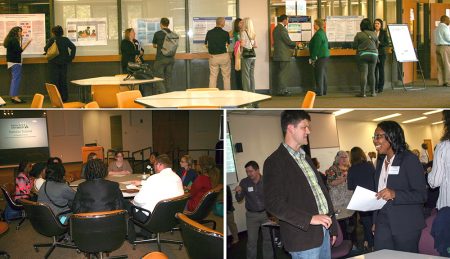 The Division of Teacher Education, Leadership and Research within the College of Education and Human Sciences hosted the first annual Educational Research Workshop on Oct. 27.
The workshop provided a unique opportunity for graduate education students from online programs to meet with faculty members and to explore and collaborate in current graduate student research.
"The energy in the building was palpable," said Dr. Tom Brady, chair of the division. "Interactions between our various students, community members and faculty created an atmosphere of learning that is so rewarding."
Students from the doctoral, specialist's and master's programs in curriculum and instruction, educational leadership and higher education engaged in several events, including a doctoral orientation, a poster session, and a 3 Minute Thesis (3MT) Competition. The 3MT competition required doctoral students to present their research to a non-specialist audience in under three minutes.
Workshop attendees also had the opportunity to join in Dissertation Blind Reads, where each student met with a Delta State faculty member for a one-on-one conversation about his or her chosen research topic.
"Having a one-on-one conversation with a doctoral candidate early in the dissertation process is an easy but effective way to model the habits of a researcher," said Dr. Vicki Hartley. "It is all about the research question — what do you want to know and what is the best way to find your answers?"
During the morning sessions, Delta State junior and senior K-12 teacher candidates were also invited to participate in round table discussions focused on classroom management, professionalism and data-driven instruction. Table leaders included current K-12 teachers, data coaches and administrators, as well as members of the current DSU Delta School Leadership Pipeline (DSLP) Educational Leadership Cohort.
Blaine Overby, a member of the DSLP cohort and a table leader, said of the morning sessions, "The round table discussion was extremely rich. It was great to talk with a range of educators, from education majors to doctoral students. As the facilitators, we just jumpstarted the conversations. The participants had a wealth of questions and knowledge that benefitted everyone at the table."
Overby is from the Yazoo County School District and is currently interning at Germantown Middle School in Germantown, Mississippi.
Dr. Leslie Griffin, dean of the College of Education and Human Sciences, said of the workshop, "I commend Dr. Catherine Putnam for providing vision and organization in hosting this event. This focus on educational research speaks to the essence of educational leadership and practice in K-12 schools. Practical research results in informed answers related to issues in school improvement and best practices."