Delta State University's College of Education and Human Science's OKRA Day Camp and the Delta Down & Dirty took top independent merit awards at the 2019 Mississippi Recreation and Parks Association annual conference awards ceremony on Oct. 23, 2019, at the IP Casino and Resort in Biloxi, Miss.
The OKRA Summer Day Camp won "Recreation Programming Award of Merit: Program Series" for its work with youth and recreation programming. The OKRA Summer Day Camp just wrapped up 10 years this past June providing unique and experiential recreational activities and games.
Delta Down & Dirty won "Award of Excellence in Special Events Sports Programming" for its effort providing a one-day special event to inspire outdoor recreation physical activity.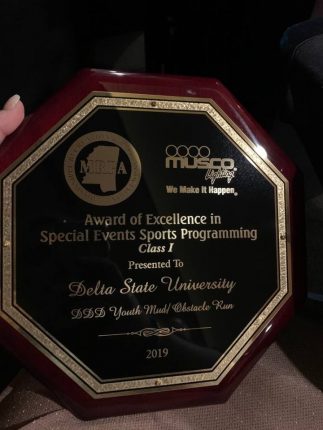 Dr. Todd Davis, assistant professor in health, physical education (HPER), and recreation and director of outdoor programs at Delta State said, "We certainly do not develop youth programs for the awards and recognition. We build and foster youth programs to directly impact and positively enhance the lives of our Delta youth; but receiving recognition for two of our programs by the MRPA among our peers in parks and recreation organizations across the state is quite an honor."
Dr. Leslie Griffin, Dean of the College of Education and Human Sciences said, "Delta area youth and their families eagerly plan for these annual events each year. No doubt many of these youth will develop lifelong recreation skills as a result of their participation—and this is the goal. We are so fortunate to have Dr. Davis and his team committed to planning and hosting these signature events on behalf of the College of Education and Human Sciences."
Tim Colbert, HPER division chair added, "The Delta Down and Dirty and OKRA Summer Day Camp have become signature programs for the College of Education and Human Sciences and the Division of Health, Physical Education, and Recreation at Delta State University. They are deserving of these awards and I would like to thank all of the people who have been involved with these events since they began in 2010 with the vision of Dr. Davis and leadership of Dr. Griffin."