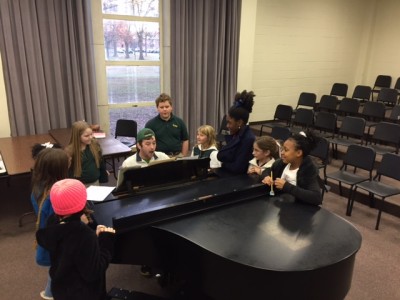 The Delta Youth Chorale resumed their regular weekly rehearsals for the spring semester this week. The youth community choir is an arts education initiative of the Bologna Performing Arts Center. Thanks to the Juliet Kossman Arts Pass, there is no fee to be a member of the choir.
Under the direction of Delta State University music department alumnus Johnathan Williams, the choir has begun working on some fun, popular tunes, as well as some classics for their spring performances. An arrangement of "Best Day of My Life" and "The Star-Spangled Banner" could be heard coming from the choir room of Zeigel Hall. The Delta Youth Chorale members were all smiles as they sang.
After the first rehearsal of the semester, Williams expressed his enthusiasm. "I am really excited to work with the students, both returning and new. They seemed very anxious to begin working on this semester's repertoire."
The Delta Youth Chorale is looking to add to its membership. Any eight to 14-year-old who loves to sing or perform is welcome to join the group for their next rehearsal on Monday, Jan. 18 from 4:40-5:30 p.m. in the choir room of Zeigel Hall on the campus of Delta State.
For more information or to sign your child up for this unique experience, contact Joannah Taylor at 662-846-4844 or email at jtaylor@deltastate.edu.