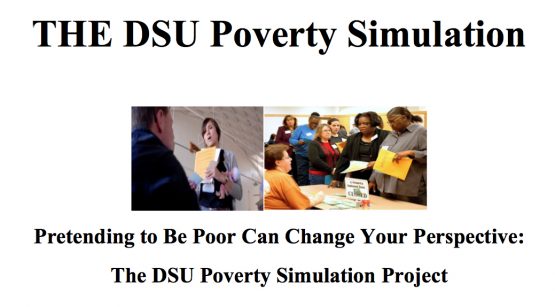 This Thursday, the Delta State University Department of Social Work, in partnership with the Department of Social Work at Belhaven College, will offer a Poverty Simulation event at the Jacobs Conference Center from 1-3 p.m.
The free event is geared toward senior social work students and any interested campus and community members. Those interested in participating in the workshop are encouraged to contact Dr. Jana Donahoe, assistant professor of social work, before 5 p.m. Wednesday at 662-846-4795 or jdonahoe@deltastate.edu.
"The purpose of the Poverty Simulation is to use a two-hour controlled, role play, experiential learning environment to give participants a glimpse of what it is like to survive for a month on a very low income by pretending to be poor," said Donahoe.
Participants will be assigned to a family group and given a family member's role and identity to play. The family is provided with a scenario involving a crisis, which could plunge them into immediate poverty. The family must figure how to survive under the dire circumstances for one month, which is divided into four 15-minute segments, each representing one week during the simulation.
The crisis forces the family to search for ways to survive poverty by living on a fixed amount of income. Social welfare assistance will be made available using volunteer actors who help the family members at tables representing community resources.
The goal is to improve the participants' attitudes and empathy toward people living in poverty. Additionally, the project seeks to increase participants' knowledge and understanding of the dynamics of poverty and the work it takes to achieve self-sufficiency.
"It is a very eye-opening experience for participants who are not familiar with the many stressful struggles for survival that people living in poverty face every day," added Donahoe.