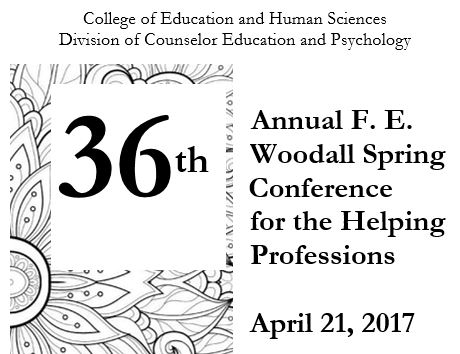 The annual F. E. Woodall Spring Conference for the Helping Professions returns to campus for a 36th year on April 21.
The Division of Counselor Education and Psychology will host the all-day conference which provides continuing education for counselors, social workers, psychologists, and other helping professionals from all over the state. The conference also provides needed licensure continuing education credits at a nominal cost.
The conference will have 35 breakout sessions and a Luncheon Keynote Address. Conference sessions cover topics such as cultural competency, trauma counseling, and animal assisted therapy.
"Our conference is held every April and we start work on the next conference in May," said Cat Vincent, Woodall Conference Coordinator. "Our conference committee and students work very hard year-round to make this event successful."
The keynote address will be delivered by Christopher Lawrence, Assistant Professor of Counseling at Northern Kentucky University. The address is titled, "Jumping Off the Couch: Perspectives on Preserving your Professional Sanity." Lawrence is known for his high energy, engaging presentations.
"I saw Dr. Lawrence early in his academic career give one of the most memorable presentations I've ever enjoyed," said George Beals, program coordinator for Counselor Education.
Most breakout sessions are from practitioners and educators in the helping professions. With the guidance of Delta State faculty, counseling practicum and internship students will be presenting in three different sessions in Lightning Talks, a TED talk style of presentation. The students cover the essential elements of their material and provide attendees with applicable, practical information. The topics of the Flash Talks are: Collaboration in Schools, Ethics of Strengthening your Professional Identity, and The Chance and the Choice Challenge: Enhancing Self-Esteem and Self-Reflection.
"The F.E. Woodall Spring Conference for the Helping Professions is an important professional development and networking opportunity for many individuals in the helping professions in the Delta and beyond," said Sally Zengaro, chair of the Division of Counselor Education and Psychology. "At Delta State, we are proud to be part of such a strong tradition and look forward to bringing together each spring individuals from a variety of backgrounds to attend the valuable and informative sessions."
See the conference website for more information: http://buytickets.at/deltastateuniversitycounseloreducation/80448