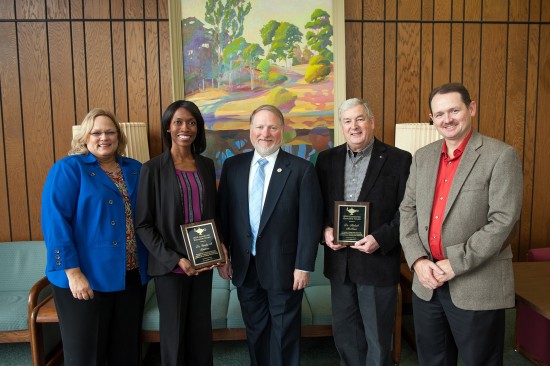 In conjunction with its activities for Connected Educator Month, the Office of Information Technology hosted the second annual Connected Educator luncheon Wednesday at Delta State University.
Sponsored by Ellucian and Delta State, the luncheon served to acknowledge honorees and announce the two recipients of the 2015 Connected Educator Awards.
One hundred Delta State students nominated 36 faculty members who used technology to positively contribute to their learning experience for the awards. Students were given specific guidelines for their submissions and provided a detailed narrative explaining how the nominees used technology in traditional, blended and online courses to positively influence their academic and personal success.
"We learned that students highly value the use of technology in traditional classrooms as well as access to additional resources for those classes in Canvas," said Dr. Nicole House, director of instructional technology at Delta State. "Their participation also speaks volumes to how well our faculty are doing to not only strengthen instruction, but also to support student success with the use of instructional technologies."
Winners were selected based on the number of nominations as well as the clarity of the narrative in addressing the faculty member's use of technology. The winners of the 2015 awards were Dr. Temika Simmons, assistant professor of psychology, and Dr. Michael McNeece, instructor in teacher education. Both are members of the College of Education and Human Sciences.
Luncheon guests included Ellucian general manager Beverly Fratesi and college deans Dr. Lizbeth Carlson, Dr. Leslie Griffin and Dr. David Breaux. Dr. Charles McAdams, provost of Delta State, provided special remarks. Each honoree was presented with a certificate or recognition and will receive a commendation letter for his/her tenure portfolios.
Other honorees included: Charly Abraham, Jerome Billingsley, Lynn Byrd, Talbot Brooks, Jill Cabrera, Carolyn Casale, Liza Cope, Jacqueline Craven, Todd Davis, Karen Fosheim, Miles Fulwider, Tomeka Harbin, Vicki Hartley, David Hebert, Cora Jackson, Monica Jones, Donghyun Kim, Ronald Koehler, Donna Koestler, Michelle Matthews, Gwen Meador, Paulette-Meikle-Yaw, Terry Parrish, Chad Payton, Bryon Pickens, Duane Shuttlesworth, Mack Smith, Ashley Soliz, Leslie Fadiga-Stewart, Merideth Van Namen, Amit Verma, Vicki Webster, Jonathan Westfall and Clint Wood.
Connected Educator Month is a worldwide initiative led by the American Institutes for Research, Powerful Learning Practice, and Grunwald Associates LLC, and seeks to create a globally-connected, evidence-based movement that fosters collaboration and innovation to transform professional learning and affect educational change.
House explained that the awards are in line with CEM's goal to document and communicate the measurable impact that faculty members make in connecting with their students.
"It's our privilege to work with faculty to enable student success," said Dr. Edwin Craft, CIO of information technology. "And we will use the information shared with us by students to expand on best practices indicated by the nominations and further extend outreach in support of faculty teaching innovation inside the traditional classroom as well as online."