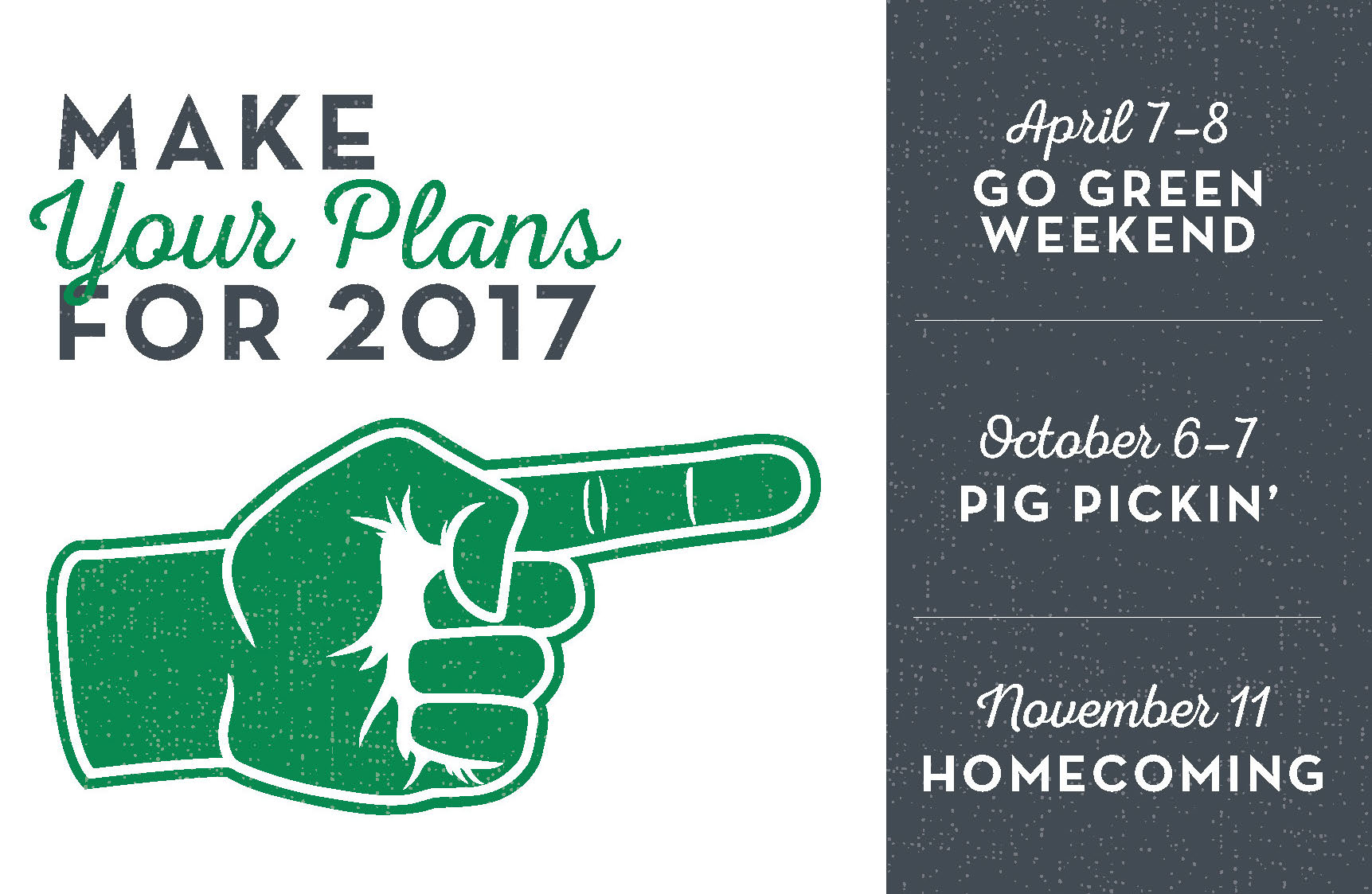 The Delta State University National Alumni Association recently announced the following 2017 event dates for three of the largest events held on campus — Go Green Weekend, Pig Pickin' and Homecoming.
On April 7-8, join the Green and White Nation for the 4th annual Go Green Weekend at Delta State. Celebrate the spring season with live entertainment, tailgating, a jambalaya cook-off, athletic games, activities for the family and more! Come out to support the Statesmen and Fighting Okra for a weekend of food, fun and sports.
The 32st annual Pig Pickin' will be held this year on Oct. 7-8, as the Statesmen football team hosts the University of West Alabama. The full schedule of events will be announced at a later date. Make plans now to tailgate in Statesmen Park with friends and fellow alumni.
Homecoming has been set for Nov. 10-11, and the Statesmen football team is scheduled to compete against Florida Tech. Throughout the weekend, the Alumni Association has a variety of activities planned. The class of 1967 will be featured and honored, as they'll be celebrating 50 years since graduating from Delta State. They will also be inducted into the prestigious Golden Circle, which is a constituency group of the Alumni Association that honors alumni who graduated at least 50 years ago. The National Alumni Association will recognize the Outstanding Alumnus of the Year, Alumni Hall of Fame, and other service awards. The award winners along with the Delta State Athletics Hall of Fame will be recognized at the Bologna Performing Arts Center on Nov. 10.
"Make plans now to return to campus! The Alumni Office has mailed 15,000 save-the-date postcards to our alumni and friends promoting these signature annual events. We also just released 28,000 Alumni and Foundation magazines which feature these dates, so keep them handy as a reminder," said Jeffrey Farris, alumni director. "The Alumni Office wants to help you get back to campus to enjoy Cleveland and your alma mater."
Email alumni@deltastate.edu with questions, and for travel info and local accommodations, go to www.visitclevelandms.com.
More details on events will be released at a later date. The official hashtag for Go Green Weekend is #GGW, Pig Pickin' is #DSUPigPickin and for Homecoming is #DSUHC.
To stay up to date on the Alumni Association's activities, follow these social media sites: Facebook (Statesmen Graduates), Twitter (@DSU_Alumni), LinkedIn (DSU alumni), Instagram (dsualumni) and You Tube (dsualumni1).