Fifty years after Apollo 11 re-entered Earth, a group of Chinese-Americans who played an integral part in the Space Race will share their experiences during Re-Entry…Mississippi, an event hosted by the Delta State University Archives and Museum and DSU's Mississippi Delta Chinese Heritage Museum on July 7-8.
Carrying Commander Neil Armstrong, Command Module Pilot Michael Collins, and Lunar Module Pilot Edwin "Buzz" Aldrin, Apollo 11 launched from Cape Kennedy on July 16, 1969; on July 20, 1969, an estimated 650 million people watched televised coverage of Armstrong's "one small step for a man, one giant leap for mankind," as Apollo 11 landed on the moon, according to the NASA website. This momentous occasion—the U.S. being the first to accomplish this feat—would not have occurred without help from the Mississippi Delta.
"We have created a marvelous exhibition and a really exciting series of lectures and activities to bring attention to the Mississippi-Chinese contribution to the 'race to space,'" said Delta State Archivist Emily Jones '99. Other topics include why NASA was formed and why the Space Race was historic. The exhibit features items on loan from guest speakers and others who had a prominent role in NASA's Apollo programs and STEM discovery—such as authentic mission patches, objects that were carried into space, computer punch cards, and period photographs.
The event also includes a mini space camp for children age 5-17, a Wiley Planetarium themed show, and a presentation from the Hancock County-based Stennis Space Center. The exhibit and activities are free and open to the public. For children to attend the mini space camp, their parent/guardian must attend the main lectures.
During the height of the civil rights movement, NASA broke barriers by hiring Americans of different racial, ethnic, and gender backgrounds, unifying them under a common goal of space exploration. Re-Entry…Mississippi shares the story of the Delta Chinese among them—including Cleveland native and Clarksdale resident Gilroy Chow, an engineer for Grumman Aircraft Engineering Corp., the prime contractor for NASA to build, test, and check the Apollo Lunar Modules (LM), from 1965 to 1973. He was with the launch team that processed the LM at the Kennedy Space Center in Florida for Apollo 11.
"It was very a humbling experience to work with this team of very competent professionals operating at an accelerated pace to achieve demanding goals under extreme scrutiny," said Chow, who will speak at the DSU event and who is the president of DSU's Mississippi Delta Chinese Heritage Museum. "It is not commonly known that there were Chinese-Americans across the country, in particular from the Mississippi Delta, that made significant contributions to accomplishing Apollo mission goals."
Fellow speaker Josephine Jue, born in Vance, Miss., joined the NASA Johnson Space Center in Houston, Texas, as a mathematician in 1963 and assisted with the Houston Avionics Language/Shuttle compiler for both the space shuttle onboard and ground based computers. With a career spanning 34 years at NASA, she will talk about equality challenges and her role in the development of STEM.
"I was one of eight women at the time and the only Asian," Jue said. "The opportunities were good when I started, but there were few women. [And] women were an integral part of the team that helped put astronauts on the moon."
Other participants include Cleveland High School alumnus William Moon, who has worked at NASA-Houston since 1965 and was the only Chinese-American in the Mission Control Center's operation control room (as a flight controller) during all Apollo expeditions, among others; Peter Joe, former longtime engineering manager at Rockwell International, which was a leading American aerospace contractor; and Martin Jue (no relation), president of MFJ Enterprises in Starkville, an electrical engineer by training and an expert in ham radios, which were popular during the Space Race.
To register for the event, click here. For a full schedule of events, click here.
This project was made possible by a grant from the Mississippi Humanities Council, through support from the National Endowment for the Humanities. Any views, findings, conclusions, or recommendations expressed in this program and/or exhibition do not necessarily represent those of the National Endowment for the Humanities or the Mississippi Humanities Council.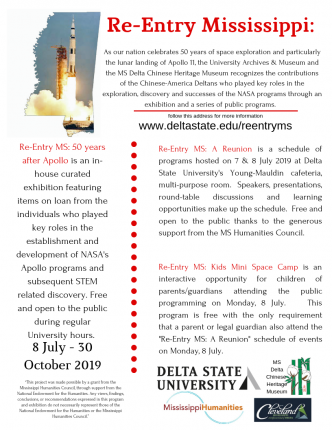 Written by Elisabetta Zengaro '15 (B.A. journalism), M.S. '18 (sport and human performance), a Ph.D. student in communication and information sciences at the University of Alabama.