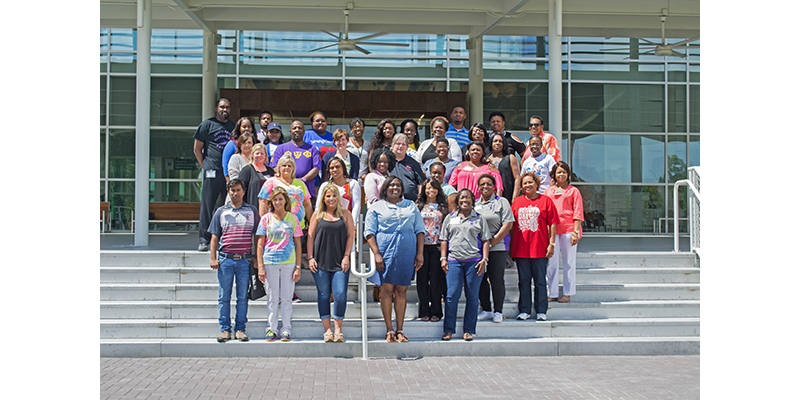 Delta State University is wrapping up its annual Delta Math Science Partnership Summer Institute (MSP), hosting 37 Mississippi teachers on campus from June 5-16.
MSP, funded by the Mississippi Department of Education through a grant from the U.S. Department of Education, aims to support increased content knowledge for K-8 in-service mathematics teachers in the Mississippi Delta who are committed to fidelity of implementation of the Mississippi College- and Career- Readiness Standards for Mathematics.
MSP strives to improve teacher quality through partnerships between state education agencies, institutions of higher education, high-need local education agencies and schools in order to increase the academic achievement of students in mathematics and science.
The professional development consists of an 80-hour intensive summer institute implemented by Delta State's College of Education and Human Sciences in partnership with the College of Arts and Sciences' Department of Mathematics.
Program leadership was provided by directors Kathleen Lott and Elizabeth Belenchia; David Hebert, instructor and curriculum co-developer; Liza Cope, instructor, curriculum co-developer, webmaster; and instructors Laura Little and CeCelia Jones. Institutional and community partners included Dr. Clifton Wingard, Ann Huber, Needle Specialty Products, GRAMMY Museum Mississippi, The Railroad Museum, DSU Planetarium, and Delta Area Association for Improvement of Schools, which supported the program with planning initiatives and presentations.
Districts participating this summer included: Cleveland, West Bolivar Consolidated, Greenwood Public, Carroll County, Western Line, Greenville Public, Leflore County, Clarksdale Municipal, North Bolivar Consolidated, Coahoma County, South Delta, East Tallahatchie and Hollandale.
MSP is made possible by a grant from the U.S. Department of Education under the award number S366B150025.
For more information, visit http://www.deltastate.edu/college-of-education/delta-math-science-partnership-initiative/#1471528724594-834e8265-eb63.