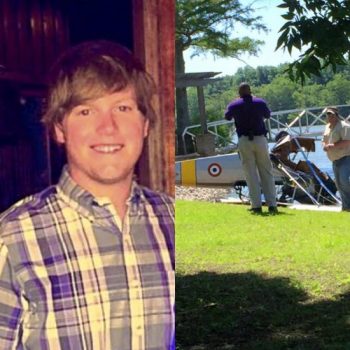 It's already been an eventful for summer for one Delta State student.
Tristan Ainsworth, who will be a junior this fall, responded to an accident scene on June 9 like any criminal justice major would.
Ainsworth was watching TV at his Moon Lake home when he heard a loud bang just before his power went out. The ruckus was the sound of a local pilot who had crashed his plane in the lake just beside his house.
"I walked outside and saw my neighbor sprinting toward the lake," said Ainsworth. "I jogged down to the lake the best I could and jumped in to help. I didn't stop and think about it. I saw the plane and just realized I needed to help."
Ainsworth put on his good Samaritan hat without much thought, despite being in recovery from a recent car crash that broke his back.
"It was a straight gut reaction. I think anybody in the situation I was in at the time would have done the same thing," he said.
Ainsworth's humble actions were crucial as he and his neighbor helped pull the pilot out of the plane safely back to shore. According to Ainsworth, the pilot was slipping in and out of consciousness.
Ainsworth added that his training as an Eagle Scout helped prepare him for the rescue situation.
According to news reports, the pilot was flown to the hospital and was released the next day.
"I knew he needed help, and I knew that's what I needed to do," he added. "It's the same type of helping hands we see on campus."
Follow all Delta State news at www.deltastate.edu.