How do retired Delta State University employees spend their time? If you're Tricia Walker, former director of the Delta Music Institute (DMI), you give back through your craft, especially in a time of crisis.
Walker, who spent 26 years in Nashville as a performer, music publisher, and music producer before coming to Delta State in 2006 to develop the DMI program, co-created a new album about hospice professionals, The World Around the Bed: Songs of hope and healing. Proceeds from it will support the purchase of personal protective equipment (PPE) for them in the COVID-19 pandemic.
The album features 11 original songs written and performed by various Nashville artists and based on reflections from hospice workers. The album is an initiative of the National Hospice and Palliative Care Organization (NHPCO).
"I was part of this special project last fall and earlier this year, writing songs with some of their members and doing a studio recording," said Walker, who earned a bachelor of music education from Delta State in 1974. "As a DSU alumna/retiree, I wanted to share this with Delta State during this time of pandemic. It's another great connection with how 'music heals.'"
Walker's vocal and guitar parts for the lead song of the album, "Joy in a Teardrop," which launched the project, were recorded at DMI.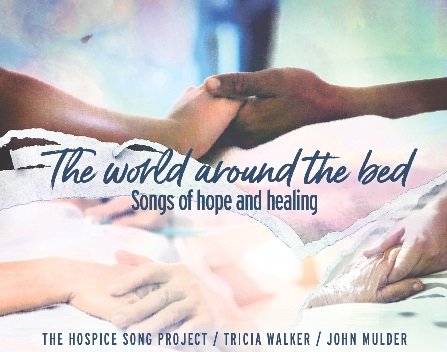 Walker, an acclaimed singer/songwriter, co-wrote the popular single, "Looking in the Eyes of Love," with Kostas Lazarides in 1990. Country music star Patty Loveless recorded it, and Allison Krauss earned a 1997 Grammy Award for Best Performance for her cover. Debby Boone and The Imperials also recorded Walker's material. Her eighth and most recent CD, Crooked Letter, Crooked Letter Eye, came out in 2019 and was recorded at Fighting Okra Studios at Delta State.
Early credits also include being a backing musician with Connie Smith, Paul Overstreet, and a young Shania Twain. Walker performed at Robert Redford's Christmas Cantata at his Sundance Mountain Resort in Utah. In 1988, Walker started Women in the Round at the renowned Bluebird Cafe in Nashville with fellow songwriters Karen Staley, Ashley Cleveland, and Pam Tillis; a version of the show headlines downtown Cleveland each year. Walker retired from DSU last June. Last July, she received the Lifetime Achievement Award from the Mississippi Writers Guild.
Below are edited excerpts from NHPCO's press release:
Music Inspired by the Compassion and Hope of Hospice is Recorded by Nashville Artists
Proceeds from NHPCO's Hospice Music Project new recording The World Around the Bed: Songs of hope and healing will support PPE supplies for hospice providers.
(Alexandria, Va) – The birth of the Hospice Music project began in November 2018 as part of the National Hospice and Palliative Care Organization's (NHPCO) interdisciplinary team conference hosted in New Orleans. At a conference session led by hospice physician and musician John Mulder and Grammy Award-winning songwriter Tricia Walker, hospice professionals shared reflections of their work. They put words to the many emotions experienced in caring for people often near the end of life. Walker and Mulder shaped those words and wrote the music to create the first recorded song, Joy in a Teardrop. The Hospice Music Project was born.
NHPCO, along with John Mulder and Tricia Walker, are proud to release the new recording, The World Around the Bed: Songs of hope and healing. Featuring 11 original songs created from the experience of hospice heroes from across the country, The World Around the Bed… reflects the joys, sorrows, difficult and challenging times, and even the lighthearted and humorous moments that are a part of life's journey.
"These gifted and compassionate hospice professionals lovingly shared their thoughts, ideas, and stories with us and then allowed us to shape their ideas into the special songs that have been recorded for this unique project," said co-creator Walker. "These songs really do express the hope and healing that hospice professionals provide each and every day."
"We feel that this will be one more effective way of communicating the sacredness of our work and establishing a testament of our wonderful legacy," added co-creator Dr. Mulder.
"During the challenging times our country, indeed the world, is facing as a result of the COVID-19 pandemic, songs that emphasize love, compassion, and hope are needed now more than ever," said NHPCO President and CEO Edo Banach. "Now, the proceeds from the sale of The World Around the Bed... will help bring much needed personal protective equipment (PPE) to providers in the hospice community, many of whom are struggling with lack of supplies, putting their own safety at risk."
The album may be purchased through the NHPCO Marketplace online or by calling NHPCO at 800-646-6460. The World Around the Bed… is also available on Amazon Music or iTunes.
For those interested in supporting the supply of PPE for hospice professionals, direct donations may be made to NHPCO's affiliate the National Hospice Foundation (please designate the Workforce Emergency Support Fund on the online donation form). So far, NHF's Workforce Emergency Support Fund has collected more than $55,000 that is being distributed to hospices in need of protective equipment.
NHPCO has created a page of information on COVID-19 for professionals at nhpco.org/coronavirus and information for the public at caringinfo.org/coronavirus. Additional information on hospice, palliative care, and advance care planning is also available from caringinfo.org.