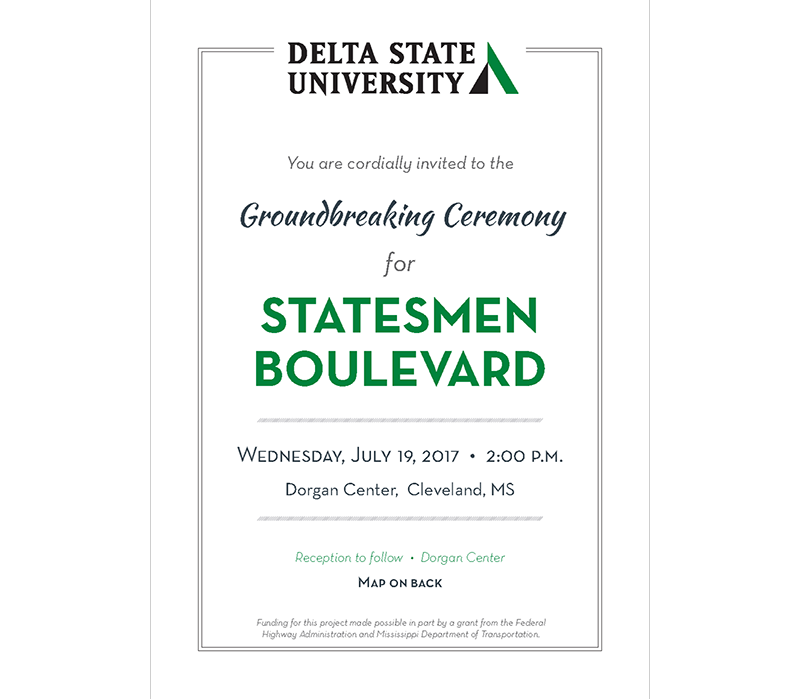 Delta State University cordially invites university supporters to the groundbreaking ceremony for Statesmen Boulevard on July 19 at 2 p.m. at the Dorgan Center on campus.
The Statesmen Boulevard project will create a new and improved gameday traffic entrance for the university's athletic facilities north of Highway 8 and west of the Bologna Performing Arts Center.
Funding for this project was made possible in part by a grant from the Federal Highway Administration and the Mississippi Department of Transportation. Additionally, there will be a 20 percent local match from Delta State and the City of Cleveland.
Construction will also include improvement of streets around and in front of the football stadium, new sidewalks and street lighting installation, and the construction of new storm drainage piping and fencing.
Senator Thad Cochran played a major role in securing federal funding for the project.
"I am thrilled that the Statesmen Boulevard project is about to commence," said Delta State President William N. LaForge. "We are finally seeing the fruition of a lot of hard work and planning, including a wonderful amount of support garnered by U.S. Senator Thad Cochran, who was able to steer federal money for this project. We are very grateful to the senator. The university also has skin in the game, as we have matched the federal funds with $500,000 that we've taken from our budget the last two years to contribute to the cost and support of this project."
LaForge said that upon completion, the university will have a much improved routing system for sporting event traffic.
"This new routing will curtail the need to go through neighborhoods or cut through campus by the Coliseum, and provide a safer and more efficient transportation flow for all of our fans, alumni and students alike."
MDOT pitched the Statesmen Boulevard project as a safety issue. By re-routing gameday traffic, students and fans walking and driving to the athletic venues will no longer have to maneuver in high volume traffic between parked cars alongside residences.
"This campus connector project will have a big impact on the Statesmen community," said Dick Hall, transportation commissioner with MDOT. "It will significantly improve safety and efficiency for residents, students and visitors."
Delta State Athletic Director Ronnie Mayers is also thrilled to break ground on a new project that will safely welcome fans to campus.
"We are excited to begin construction on Statesmen Boulevard as a new way to welcome fans to Delta State athletic events," said Mayers. "Delta State is always thankful for its dedicated fans, and this project will provide them a grand entrance as they come to cheer on the Green and White."
Jeff Barkman, director of Facilities Management at Delta State, said the project would be competed in the spring of 2018.
Follow all Delta State news at www.deltastate.edu.