CLEVELAND, Miss.— Delta State University's Commercial Aviation students recently received a lesson on the state's intermodal network from Mississippi Department of Transportation (MDOT) veteran Charles Carr.
As director of Intermodal Planning Charles, Carr oversees the executive level responsibilities for MDOT's Divisions of Aeronautics, Ports and Waterways and Public Transit.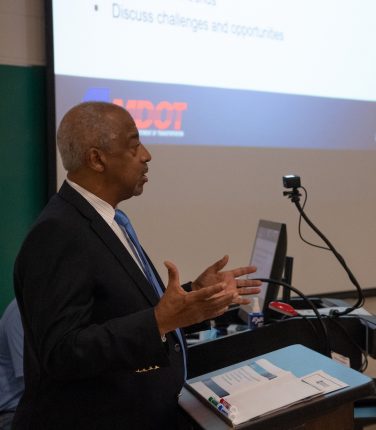 During his visit to Delta State's campus on Sept. 23, Carr spoke on the topic "MDOT's Role in Logistics – A Look at Mississippi's Transportation Network." He used the opportunity to inform students on the operations of MDOT, emphasizing that it's "much more than roads and bridges."
In his opening comments, Carr stated how fortunate he was to observe how the transportation system in the state of Mississippi benefits from the interrelationships that have been developed by MDOT and local communities.
He then focused on the "non-highway" side of MDOT—logistics and supply chains— which represents less than 5% of the overall budget.
"With COVID came a major global disruption in what we call the supply chain, and Mississippi is still experiencing effects from it," said Carr.
According to Carr, Mississippi joins other states in experiencing longer delivery times, price inflation and employee shortages because of the disruptions in the supply chain.
As he concluded, Carr stated that working with partners like Delta State has helped MDOT become more fluent in logistics and prepare students for careers within the industry.
Carr is a graduate of Jackson State University, the American Association of State Highway and Transportation Officials (AASHTO), the National Transportation Management Program and the National Transportation Leadership Institute.
As director of public transit with MDOT, he established the groundwork that eventually led to the growth of public transportation options in several areas of the state where these services were nonexistent or needed improvement. Communities across the state, including the Delta, the Natchez area and the Mississippi Band of Choctaw Indians, have benefited from the new transit facilities constructed as a result of his efforts.
As director of intermodal planning, Carr has continued his efforts to improve the interconnectivity of all modes of transportation. According to an MDOT news release, Carr's commitment in advancing projects and programs that enhance the economic development and access to many of the state's airports, ports and waterways has resulted in several improvements to facilities around the state.
To learn more about MDOT, visit www.mdot.ms.gov.
Delta State's Department of Commercial Aviation offers a Bachelor of Commercial Aviation (BCA) in Flight Operations and Aviation Management with a concentration in Logistics, and a Master of Commercial Aviation (MCA).
To learn more about Commercial Aviation programs at Delta State, visit aviation.deltastate.edu.
For questions, e-mail cavinfo@deltstate.edu, or call (662) 846-4205.