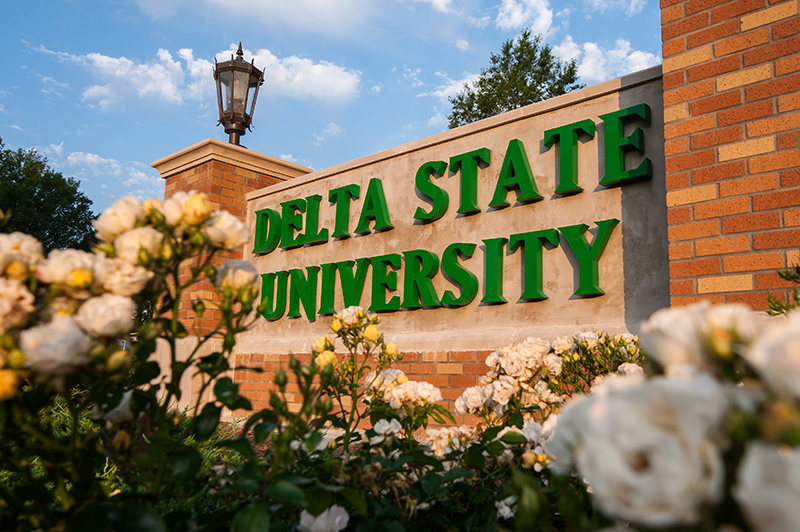 Delta State University recently announced a new program developed through a university-wide visioning process to promote academic excellence and student success at the institution.
The initiative, called the Capstone Project, aims to increase student learning by providing a Capstone experience for every student in every degree program. Departments across campus have identified a Capstone experience for each of its major programs.
The projects provide students the formal opportunity to connect major themes from their discipline and apply them to their field of study. The desired outcome of the program is that every student will have a capstone experience in their major program to promote reflection and synthesis of key concepts within their major.
"I'm very pleased with the university's new and revised Capstone Project requirement for every major and every graduate," said Delta State President William N. LaForge.
LaForge said this new feature would distinguish Delta State in two major ways. First, it underscores and enhances the academic rigor and reputation of the university and its programs. Secondly, it gives Delta State graduates a competitive advantage, including the substantive experience from doing the project, in addition to what they're able to put on their résumé and discuss in interviews.
"This should make our graduates more competitive for jobs in the marketplace, but also for positions in graduate and professional school," added LaForge. "The Capstone requirement adds an academic 'halo' over our students' performance and degree that should help them advance in their chosen careers."
Dr. Charles McAdams, provost and vice president for Academic Affairs, said the program would strengthen the overall learning experience at Delta State.
"Another step in Delta State's commitment to providing the best academic experiences possible is making sure that every degree program has a Capstone experience," said McAdams. "Experiencing a curriculum can sometimes leave students wondering how all the information they are learning, and skills they are developing, will help them in the next phase of their professional life."
"Capstone projects are designed to help students synthesize what they have learned to ensure they have achieved the outcomes of their degree," added McAdams. "Many programs, such as teacher education programs, nursing and social work, have traditionally had field experiences at the end of their program. We have expanded this effort so that now every degree program has some type of Capstone experience within their curriculum."
McAdams said not many universities have taken this extra step, but Delta State remains committed to providing the most meaningful curriculum possible.
Dr. Leslie Griffin, dean of the College of Education and Human Sciences, said the projects should boost the overall academic experience for students.
"I think the saying that 'the whole is greater than the sum of its parts' applies here," said Griffin. "That is, increasingly, employers and the world-at-large expect graduates to bring understanding of all the nuances of their specialization to bear on the workplace and in life experiences. Capstone courses help learners to contemplate, analyze and synthesize their learning experiences in a manner that achieves this level of understanding and operation, with an eye on outcomes."
"In the realm of professional practice in education, counseling, and other related fields, Capstone projects ensure that learners bring the skills, knowledge and dispositions they have developed in their programs to bear on the real world through their work in the professional setting — P-12 schools, counseling centers, medical facilities, others, dependent upon the area of specialization."
Dr. Dave Breaux, dean of the College of Arts and Sciences, echoed Griffin's praise for the initiative.
"Providing students the opportunity to engage in a Capstone experience will allow them to synthesize and integrate material encountered throughout their program of study," said Breaux. "It should provide a platform for them to demonstrate mastery of the material within their respective disciplines, and give them a leg up on the job market."
Follow all Delta State news at www.deltastate.edu.