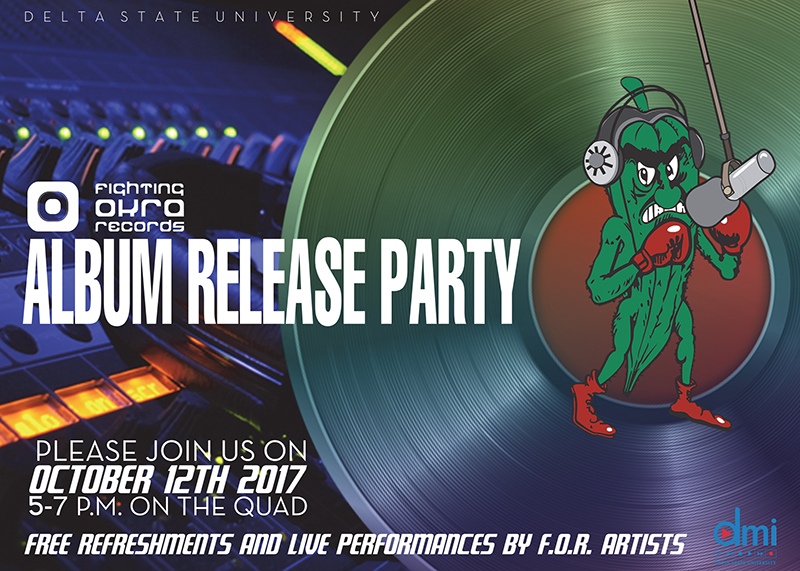 Fighting Okra Records, the student-run record label within the Delta Music Institute's entertainment industry program at Delta State University, is hosting an album release party to celebrate the newest addition to its ongoing compilation series, "Fighting Okra, Round 3."
The event will feature live performances from artists featured on the album and take place on the campus Quadrangle on Oct. 12 at 5 p.m.
Six student artists will perform at the event, each providing a different style of music, including hip-hop, electronic, alternative and soul. All artists are featured on the CD and will be performing their contributions to the album, as well as some of their solo material. Free refreshments will be provided, and entry to the event is free.
In addition to the musical performances, the release party will include raffles, contests and a photo booth for attendees.
"Fighting Okra, Round 3″ is the third entry in FOR's compilation series, and fifth release for the student-run record label.
"I'm excited about a new release on the Fighting Okra Records label," said Tricia Walker, DMI director. "This release marks the beginning of the search for the label's next artist to be signed and produced in the DMI studios. There is so much great young talent here at Delta State, and this current release showcases a lot of that talent."
The Delta Music Institute is an independent center of study under the College of Arts and Sciences at Delta State University, offering a bachelor's degree in entertainment industry studies. The focus of the DMI is to provide students with a broad and thorough education in the technological, creative and business areas of the music and entertainment industry. For information about the DMI or Fighting Okra Records, contact 662-846-4579 or visit http://dmi.deltastate.edu.