Students and program participants from Delta Educational Opportunity Center and Ronald E. McNair Post-Baccalaureate Achievement Program celebrate 2020 National TRIO Day of Service to express appreciation to the community for its support of the TRIO programs. For millions of students from low-income families who strive to be the first in their families to attend and graduate from college, federally funded programs called TRIO are making a world of difference.
Observed on Saturday, Feb. 22, National TRIO Day of Service is a 'thank you' for supporting programs that help first-generation, low-income students overcome social, cultural, and academic barriers to succeed in higher education. By providing direct services and individually focused and intensive programming geared toward helping students navigate the college admissions and financial aid process, TRIO programs assist students in overcoming the obstacles they face as the first in their families to attend and graduate from college. Today, more than 5 million students have graduated from college with the support and assistance of TRIO programs across the country.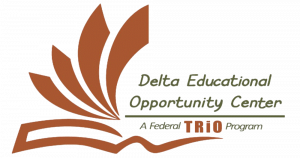 Since the program began at DSU in 2016, Delta Educational Opportunity Center has provided ACT prep workshops and vouchers, GED referrals and vouchers, college application assistance and fee waivers, career assessments and counseling, individualized education plans, financial literacy, educational excursions, and more to more than 4,000 Delta area students and adults.
The McNair Scholars Program has been making great strides on campus since 2017. The McNair Scholars Program prepares qualified undergraduates for entrance to a Ph.D. program in all fields of study. McNair participants are either first-generation college students with financial need, or members of a group that is traditionally underrepresented in graduate education and have demonstrated strong academic potential. The goals of the program are to increase the number of first-generation, low-income, and/or underrepresented students in masters and Ph.D. programs, and ultimately, to diversify the faculty in colleges and universities across the country.
Currently, there are Delta State McNair alumni enrolled in doctoral and masters programs across the country including East Carolina State University, Elizabeth City State University, University of Mississippi Medical Center, University of Alabama, University of Mississippi, Texas Tech University, University of Wisconsin at Milwaukee, University of Tennessee Health Sciences Center, and Delta State.
Today, more than 1,000 colleges, universities, and community agencies host more than 2,800 TRIO projects that serve more than 800,000 young people and adults. TRIO serves students of all racial and ethnic backgrounds. Currently, 34 percent of TRIO students are white, 33 percent are African-American, 21 percent are Hispanic, 4 percent are Asian- American or Pacific Islander, 4 percent are American Indian, and 1 percent are listed as "other," including multiracial students.