The number of colleges and universities nationwide that confront student food insecurity continues to rise. More than 640 campuses across the nation operate food pantries to help nourish students who lack a sufficient quantity of nutritious food, according to the College and University Food Bank Alliance—from Columbia University to Indiana University to University of New Mexico to University of California, Berkeley.
On Jan. 27, 2020, at 3:30 PM, Delta State University will join that growing list of collegiate mindfulness. That's when DSU will hold a ribbon-cutting ceremony to launch The Statesman's Shelf food pantry for current students. The site will provide non-perishable food and liquids, along with disposable dinnerware, to any DSU student who wants to partake. All DSU students, whether living on campus or off campus, can frequent The Statesman's Shelf. Students do not have to qualify for need to participate. The sole requirement is a valid student ID. Transactions are confidential.
"Students shouldn't have to worry about where their next meal will come from," said Dr. Vernell Bennett, vice president for Student Affairs, which oversees The Statesman's Shelf. "We want our students to take advantage of this resource. There is no shame in it."
All sorts of statistics support this. The U.S. Government Accountability Office, in "Food Insecurity: Better Information Could Help Eligible College Students Access Federal Food Assistance Benefits," a December 2018 report to congressional requesters, reviewed 31 studies that provided some information about food insecurity for college students. Estimates of food insecurity ranged from 9 percent to more than 50 percent. Twenty-two of the studies recorded rates of more than 30 percent.
Also, the College and University Food Bank Alliance, the National Student Campaign Against Hunger and Homelessness, the Student Government Resource Center, and the Student Public Interest Research Group sponsored "Hunger on Campus: The Challenge of Food Insecurity for College Students," an October 2016 report. Of 3,765 students surveyed in 12 states, spanning eight community colleges and 26 four-year colleges and universities, 48 percent of respondents indicated food insecurity within the past 30 days. Twenty percent of respondents at four-year schools cited very low levels of food security (to be interpreted as hungry).
There are numerous reasons why Delta State students might experience food insecurity, Bennett explained. Most apparent: limited funds. "Oftentimes, students choose to live off campus because they believe it saves them money, but it doesn't," she continued. "We found the most food insecure students to be those who live off campus. The first place they cut their budget when it's necessary is usually the grocery list."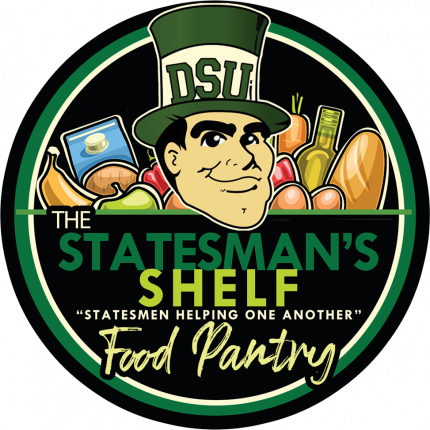 Delta State is collaborating with the Hattiesburg, Miss.-based Extra Table, a non-profit organization committed to ending food insecurity in Mississippi, on The Statesman's Shelf. Extra Table's executive director, Martha Allen, and her team raised $9,500 for Delta State to purchase bulk food. "Delta State greatly appreciates the generosity and advice from Extra Table," said Bennett. "Martha Allen is a wonderful partner."
Delta State colleagues also are chipping in. The Mu Gamma Chapter of Alpha Kappa Alpha Sorority, Inc., the African American Student Council, and the Department of Social Work through Chair and Associate Professor Jana Donahoe amassed hundreds of food items—jars of peanut butter, cups of pudding, boxes of pasta, pouches of juice, bags of rice, cans of vegetables, soup, and tuna fish. Just about anything and everything except refrigerated items or breads, because there's no equipment to store them and prevent spoilage. Facilities Management painted and carpeted the room from funds that Bennett had allocated from her Student Affairs budget.
The Statesman's Shelf will begin operating on Tuesdays and Fridays from noon to 5 PM, effective as of Tuesday, Jan. 28. It's located in the Student Union behind the State Room. Upon entering The Statesman's Shelf, students will swipe their ID into a cardholder to validate their status and then shop for what they want by checking off boxes on a form. They'll then receive a bag of groceries determined by pounds, not items.
"We welcome all DSU students who need food for whatever reason," Bennett said. "We also welcome community support. The donations we're gathering for the opening won't last forever."