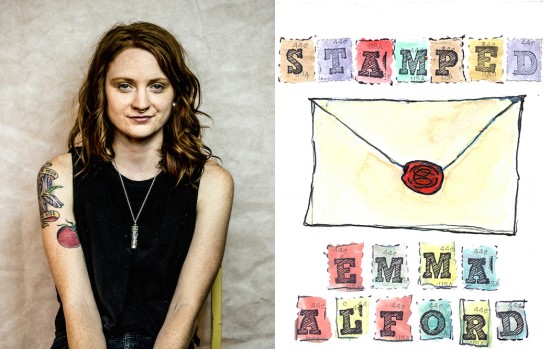 Best friends die — and that is really difficult. Delta State alumna and Cleveland native Emma Alford '12 explores such a loss on her own terms in a new chapbook, "Stamped." In the book's poems, she taps into the experience of losing her best friend in a car accident at the age of 20, while they both teetered between adolescence and adulthood.
Alford began writing these poems five years ago in a college poetry workshop class immediately after the death of her friend and completed the collection in 2015. Some of the poems were written in response to actual postcards from her friend, with the book displaying reproductions of the postcards next to their corresponding poems.
"I found these postcards from Cassidy, some I had responded to and some I hadn't," said Alford. "I had these things I needed to say to her and about her. Finding the postcards pushed me to start writing these poems."
Nearly all the poems are constructed as a conversation with her deceased friend, directing each line toward her. They capture the experience of loss, but also the humor and subtleties of a friendship cut short much too early.
"You can't make new, old friends, and I think that's what's most crushing about losing them at a young age," she said. "Any friends I make as an adult won't have grown up next door — they'll never know 14-year-old me. Addressing and exploring that fact through these poems has been very important and therapeutic for me."
Mike Smith, author of "Byron In Baghdad" and "Multiverse," said, "Emma Alford's first book is a beautiful elegy. Expertly rendered through a series of poems that transforms a friend's postcards into a means of coming to terms with loss, this collection participates in the great tradition of English-language poems that celebrate and mourn best friends lost too soon. This is a deeply moving book and one I will read and reread for years to come."
"Stamped," from Finishing Line Press, is Alford's first published work of poetry. The book is available online at www.finishinglinepress.com. Some of the poems have previously appeared in Delta State University's literary magazine, Confidante. She hails from the Mississippi Delta, but now lives in Nashville, Tennessee with her overweight, orange tabby. She is an editor and contributor for The East Nashvillian magazine.