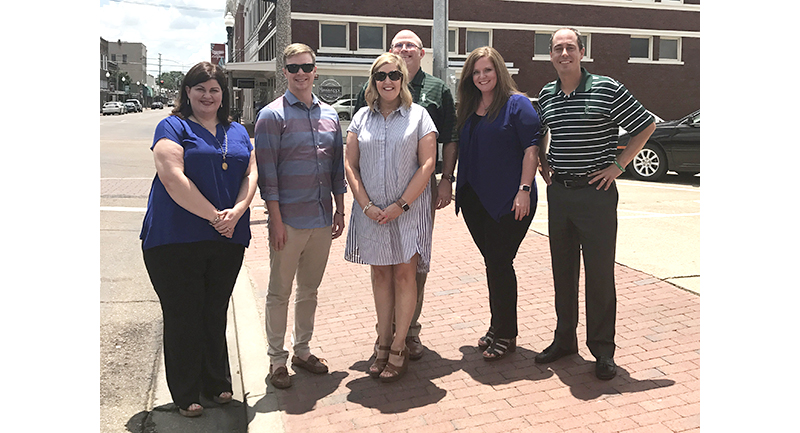 Pictured are the Leflore Alumni Event planning committee members (left to right): Danielle Morgan '01, Forrest Hodge '12, Rebecca Arant '09, Miller Arant' 03, and Alumni staff Melissa Love '04 and Jeffrey Farris '04.
The Delta State University Alumni Association will host the Greenwood/Leflore County chapter meeting at the Museum of the Mississippi Delta on Tuesday. Registration and a social will begin at 6 p.m. followed by dinner and the program at 6:30 p.m. Abe's BBQ will provide catering for the event.
"The Alumni and Foundation Office is excited to bring guests from campus to Greenwood," said Jeffrey Farris, director of Alumni Affairs. "We look forward to visiting with our alumni, friends of the university and future Delta State students."
Featured guests will include: President William N. LaForge; Todd Cooley, head football coach; Craig Roden, head women's basketball coach; Matt Jones, senior associate athletic director of communications and marketing; Rebekah Arant, admissions recruiter; and the Delta State Alumni-Foundation staff.
The cost for the meeting is $10 per person. Prospective students are invited to attend as guests of the Alumni Association. To RSVP, contact the association at 662-846-4660 or visit https://www.deltastategiving.org/alumniassociation/greenwoodalumnievent.
Supporters are asked to consider contributing to the Greenwood/Leflore County Alumni Scholarship Fund and the Delta State University Marketing Dollars Campaign. Donations can be made on the event page.
"This event always promises to be a great time," said Miller Arant, president of the chapter. "Greenwood and Leflore County DSU alumni are proud of our university and take great pride in promoting current and future endeavors. In addition to the sendoff of our newest Statesmen, we are extremely excited about the opportunity to award scholarships."
The mission of the Museum of the Mississippi Delta (formerly Cottonlandia Museum) is to collect, preserve, interpret and exhibit tangible artifacts which enable the museum to educate the public about the art, history and natural history of the Mississippi Delta. The collection consists of historical items related to agriculture with particular emphasis on the cotton industry; military history emphasizing the Civil War; a regional art collection; the largest collection of Spanish Colonial trade beads in the Southeast; and an extensive collection of Pre-Columbian pottery.
The museum is currently hosting a vibrant exhibit featuring all new artwork by two Greenwood artists, Angie Crick Cole and Shawn Hodges. "Local Color" will include 20 pieces by Hodges and 28 by Cole. The artwork will range in sizes and will also be available to purchase. For more information, visit the museum's website at www.museumofthemississippidelta.com.
To stay up to date on the Alumni Association's activities, follow these social media sites: Facebook (Statesmen Graduates), Twitter (@DSU_Alumni), Tumblr (http://www.dsualumni.tumblr.com), LinkedIn (DSU alumni), Instagram (dsualumni) and You Tube (dsualumni1). Save the date for this year's Pig Pickin' (Oct. 7) and Homecoming (Nov. 11).