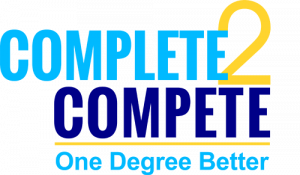 Complete to Compete (C2C) is a statewide program focused on encouraging Mississippi adults who have completed some college, but no degree, to return to college and complete the requirements necessary to earn their degrees.
Mississippi Public Universities, the Mississippi Community College Board and the Mississippi Association of Community and Junior Colleges are partners in the effort to identify target groups, implement adult learner services and re-engage adult students to help them complete their degrees.
C2C is designed for any adult learner that has some coursework completed at a Mississippi public institution, is at least 21 years of age, who has been out of college at least 24 consecutive months, and has not completed a postsecondary degree.
For more information and to apply to C2C, go to https://msc2c.org/, or contact the C2C Coach, Darla Poole, directly at dpoole@deltastate.edu.
C2C Coaching
C2C makes it easy for adults to review prior credits earned and matches them with an institution that provides the best pathway for obtaining a degree. C2C links adults to a C2C Coach, who works to maximize the application of earned credits toward a degree. For adults who have enough credits for an associate or bachelor degree, that degree is awarded. For those just short of a degree, a C2C Coach works to identify the best pathway that meets their goals
C2C Grant
The C2C Grant is available to eligible program participants who have not already earned an associate degree. Qualifying participants can receive up to $1000 per semester to assist with tuition and other expenses, and funds are applied directly to the student's account. C2C Grant funds are distributed to eligible applicants on a first-come, first-served basis and subject to funding availability. For more information about eligibility and application instructions, go to https://msc2c.org/c2c-grant
University Studies Fast-Track Degree
The Bachelor of Science in University Studies (BUS) was developed as a fast-track degree for C2C participants who earned 90+ hours prior to being re-admitted. This program offers grade forgiveness, as well as the most flexibility in terms of scheduling and course requirements. Upon re-admission, the C2C Coach reviews your transcript(s) for BUS program eligibility and determines the best pathway to meet your goals.
Qualifications for C2C
C2C is designed for Mississippi adult learners who are motivated to take the next steps toward completing their degree. You may be eligible to participate if you:
Are 21 years of age or older.
Have earned at least 12 hours of college credit at a Mississippi public college or university, but have not yet earned a bachelor degree.
Have not been enrolled at any college for at least 2 years.
Next Steps
With C2C, chances are you're much closer to a degree than you might think. To find out how close you are to a college degree, complete the online C2C evaluation at http://www.c2cpathfinder.org/c2c.
When you're ready, complete a new application to be admitted to DSU. If you were previously enrolled at DSU, apply as a returning student. If you were enrolled at a different Mississippi public college or university, apply as a transfer student. See the application instructions below to get started!
University Application Instructions – C2C Returning Students
University Application Instructions – C2C Transfer Students
CONTACT
Darla Poole
Coordinator
Bailey 211; DSU Box 3204
Cleveland, MS 38733
P: 662.846.4577