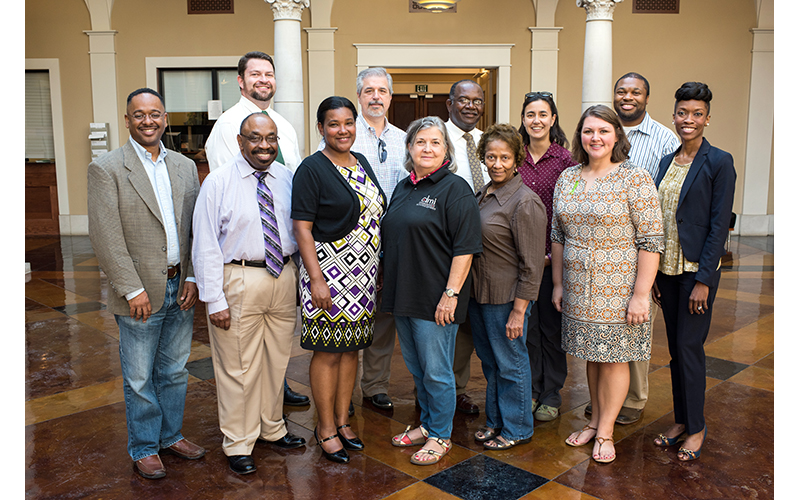 2017 Winning The Race Committee member include: (front, left to right) Dr. Rolando Herts, Dr. Billy Moore, Dr. Lekeitha Morris, Tricia Walker, Georgene Clarke, Jeanna Wilkes and Dr. Temika Simmons. 
Back (l to r): Dr. Charles Westmoreland, Dr. David Breaux, Sam Washington, Michelle Johansen and Davlon Miller. 
Members not pictured: Bryce Anderson, Dr. David Baylis, Dr. George Beals, Travis Calvin, Jondelyn Catlette, Dr. Edwin Craft, Dr. Ellen Green, Dr. Leslie Griffin, Matthew Harris, Dr. Garry Jennings, Elizabeth Joel, Paula Lindsey, Michael Lipford, Don Allan Mitchell, Cleveland Phinisee, Arlene Sanders, Jeremiah Smith, Dr. Myrtis Tabb (ex-officio), Jenn Keathley and Chante Willis.
Delta State University's award-winning conference Winning the Race returns to campus for the fourth year on March 27-28.
Conference updates, registration and additional information are available at http://www.deltastate.edu/winning-the-race/.
This year's conference, "Winning the Race: Advancing Education in the Mississippi Delta," is presented in partnership with the Casey Family Programs and the Mississippi Humanities Council and will focus on identifying educational inequities and strengthening educational opportunities in the Mississippi Delta.
The inaugural program, spearheaded by Delta State President William N. LaForge in 2014, was designed as an innovative academic conference with a focus on engaging, promoting and rekindling conversations in hopes that Delta-area communities can move toward greater equity, forward thinking and reduced racial tensions.
"I am very much looking forward to another outstanding race relations conference, with a program I'm advised will be top flight," said LaForge. "From the special speakers, breakout sessions and general discussion topics, this conference promises to be another great success."
"While our conference is not conducted in reaction to anything in the current political climate, it certainly comes at an appropriate time to contribute to the national, regional and local dialogue on how we get along in society," added LaForge.
In recognition of this work, the university received the 2014 Civil Rights and Social Justice Award accepted by LaForge at the fourth National Civil Rights Conference in Philadelphia, Mississippi.
The 2017 schedule will continue the critical dialogue about current issues related to education, social justice and community healing, while highlighting opportunities for sustained community action, awareness and mobility.
"This year's conference will provide attendees with the tools to engage in not only the dialogue, but the work of strengthening the educational community and infrastructure in and around the Mississippi Delta," said Dr. Temika M. Simmons, assistant professor of psychology and conference chair. "Unique to the 2017 platform are opportunities for professional development credits for teachers and counselors, in addition to a special workshop track for high school students — further evidence of the university's commitment to moving the conference initiative beyond the current dialogue to tangible action and outcomes."
Highlight speakers for the 2017 conference include Dr. Ivory Toldson, president and CEO of the Quality Education for Minorities Network, and Dr. William C. Bell, a Delta State graduate and president and CEO of Casey Family Programs.
Toldson is a professor of counseling psychology at Howard University and editor-in-chief of The Journal of Negro Education. Toldson's previous appointments include executive director of the White House Initiative on Historically Black Colleges and Universities, senior research analyst for the Congressional Black Caucus Foundation, and contributing education editor for The Root.
With more than 60 publications, four books, and over 150 research presentations in 36 states and numerous countries, Toldson's work and research have focused on dismantling some of the most pervasive myths about African Americans. Instead, he highlights the talent and potential of students of color. Toldson has been featured on MSNBC, The New York Times, various radio stations, and has been dubbed one of "30 leaders in the fight for Black men," by Newsweek Magazine. Former U.S. Secretary of Education Arne Duncan said he is "a prolific young scholar and myth buster."
William C. Bell, president and CEO of Casey Family Programs, is returning for another highly anticipated speech. With more than 35 years of experience in the field of human services, Bell chairs the executive team for CFP and is responsible for the vision, mission, strategies and objectives of the foundation.
Bell's awards include Special Contribution to the Judiciary Award from the King County Washington Women Lawyers (2016), the Orgullo de la Comunidad (Pride of our Community) Award from the Coalition for Hispanic Family Services (2015), and the 2014 James A. Joseph Lecturer for The Association of Black Foundation Executives.
Additionally, he was named Delta State's 2012 Outstanding Alumnus of the Year and was inducted into the university's Alumni Hall of Fame and the Omicron Delta Kappa national leadership honor society.
Bell is nationally renowned for his contributions and lifelong commitment to improving the lives of children and families, his tireless work to prevent child abuse and neglect, his fight to make the judicial system more accessible to all, and his battle to improve the lives of children in foster care.
In addition to stellar speakers, conference breakout sessions will feature topics covering social justice, civil rights and law, economic opportunities, education and community, and culture and community. These sessions will be guided by leaders from around the state and nation.
Other featured activities include poster competitions for high school and college students, and performances by the ROOTS of Sunflower County and the Delta Blues Museum Band.
The university will kick off this year's conference with an open house on March 26 from 2-6 p.m. at the Amzie Moore House Museum and Interpretive Center located at 614 South Chrisman Avenue in Cleveland. A press conference honoring the work of Mississippi civil rights veterans will take place at the house at 3 p.m.
Conference activities will begin on campus at 8 a.m. on March 27 in the Bologna Performing Arts Center at Delta State.
For more information, contact Simmons at tsimmons@deltastate.edu.