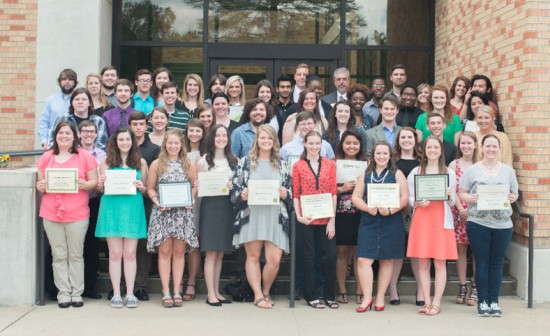 The Delta State University College of Arts & Sciences hosted Honors Day on April 25 to recognize the best students in the liberal arts and humanities, as well as the sciences.
"We had a new location this year and a great turnout," said Dr. David Breaux, dean of the COAS. "It is an honor to be associated with Delta State's College of Arts & Sciences, as I am so impressed by our diverse and multi-talented students and faculty. Nobel Laureate poet William Butler Yeats once said, 'Education is not the filling of a pail, but the lighting of a fire.' The fires of this year's winners burn particularly bright. 
"I especially enjoyed meeting the loved ones, families and parents of our students, many of whom took off time from work to be here. I would also like to thank Liz Schmidt and Larkin Chapman for taking the time to honor the winners of the first annual Ethan Schmidt Memorial Scholarships, as the late Dr. Ethan Schmidt's life exemplified Delta State University at its very best."  
Breaux also extended thanks to the Delta State University Alumni Foundation for its sponsorship of the reception.
This year's scholarship and award winners included:
THE AMERICAN ASSOCIATION OF UNIVERSITY WOMEN DOROTHY SHAWHAN MEMORIAL SCHOLARSHIP WINNERS:
Kristina Rae Hong & Jessica Faith Wishard
ART DEPARTMENT SCHOLARSHIP WINNERS:
Chris Pecou, the Smith Patterson Art Scholarship
Samantha Plunk, the Maxine Boggan Holcombe Art Scholarship
Sandra Burt, the Kelly Clare Belenchia Scholarship
Hannah Kistemaker, the Ferretti-Karnstedt Art Scholarship
Jimmiera Chillis, the Vivian Brown Hannah Art Scholarship
Lawson King, the Melanie Tyler Owen Memorial Art Scholarship & the Norwood Art Scholarship
Jake Black, the Duff Dorrough Memorial Scholarship

DEPARTMENT OF BIOLOGY SCHOLARSHIP WINNERS:
Syed Amanuddin, Melvin F. Cohen Memorial Scholarship
Jacob Mercier & Kara Nowell, the Dr. Robert L. Elliott & Dr. Mary C. Elliott Scholarships
Kara Lane Nowell, the Jessie White Biology Scholarship
Emilee Ann Bolden, the Ferretti-Karnstedt Premedical Scholarship
Christine Beck, the Johnny Drew Ouzts Memorial Scholarship
Shelby Holcomb, the District II Dental Society Scholarship
Ashlyn Spell, the Greg Tharp Pre-Dental Scholarship
Tyler Sullivan, the Dr. R. T. and Kathryn M. Hollingsworth Scholarship
DEPARTMENT OF CHEMISTRY & PHYSICS SCHOLARSHIP WINNERS:
J. C. Blackmon, the Jessie White Scholarship
Ashley Griffin, The Chemistry Award
Zac Kinler, the Joe Greever Organic Chemistry Award
Katie Penton, The Ben Branch Memorial Chemistry Award
Ana Daisy Camerillo, the James Anthony Scarborough Memorial Scholarship
Kelby Flemons, the Josh & Orena Adams Memorial Scholarship
DELTA MUSIC INSTITUTE SCHOLARSHIP WINNERS:
Zach Dickerson, the Dr. Bennie Wright and Family Scholarship
Ryan Bridges, the Duff Dorrough Memorial Scholarship
Kelsey Buquet, Karnstedt-Ferretti Scholarship
Kailey Mathis, the Morris Scholar
Schaefer Llana, Karlee Ponder, Zach Dickerson, & Tyan Nash the Morris Band Scholarships
Kathryn Mangialardi, Rhett McCormick, & Jessica Faith Wishard, the Steve Azar St. Cecilia Foundation Scholarships
Justin Boatman & Jessica Faith Wishard, the DMI Director's Award
GEOSPATIAL INFORMATION TECHNOLOGIES SCHOLARSHIP WINNERS:
Bryan Cosme and James Christianson, winners of the Meek Scholarship
DIVISION OF LANGUAGES AND LITERATURE SCHOLARSHIP WINNERS:
Kendall Morrow, The Evelyn Hammett Scholarship
Jess Bennett & Marshal Salley, The Leola Gregory Williams Scholarships
Amber Swindle, The Anne Caulfield Winston Award
Christina Camerota, The Weaver Betts Cotton Scholarship
Cecilia Nieves, The John Hargrove Tatum Scholarship
Victoria Burton, The Robert "Buzzy" D. Wright Award
Victoria McDonald, J'Nell Posey Coffman Scholarship
Lauryn Hancock, the Hazel & Grover Thornell Award for Creative Writing
Aallyah Wright, the John and Dorothy Merrill Journalism Scholarship
Laura Strong, Dr. William Arthur Pennington Award
Nichole Smyly, the Joseph Correro Foreign Language Award
Hannah Kistemaker, Avery Wall, Gared Watkins, Conor Bell, Rebecca Carroll, Jamarrez Davis, Florian Mondoloni, Laura Orsborn, Aaron Payne, Alecia Wilson, Najawon Wilson, Aallyah Wright, & Matteo Zengaro are the winners of the Silas Wayne & Lula Wilson Thompson Scholarships.
Aaron Payne, the Clifton Langford Scholarship
Callie Musselwhite, John R. Ford Shakespeare Award
Myers Taylor, the Dr. Maria Butler Retention Scholarship
DEPARTMENT OF MATHEMATICS SCHOLARSHIP WINNERS:
Jennifer Duke, the Eleanor Walters Mathematics Scholarship
Rebecca Hudson, the Ray and Jo Wilson Mathematics Scholarship
Davida White, William D. Conner Mathematics Scholarship
Erice Henry, Wilson and Eloise Davis Mathematics Scholarship
Mary Scott Waldrop, the Freshman Mathematics Award
DEPARTMENT OF MUSIC SCHOLARSHIP WINNERS:
Sara Crider, Tirzah Simmons, Daniel Christy, & Colby Kee, The Jeff Ross Capwell Scholarships
M. J. Britton, the Maggie Flowers Ewing Scholarship
Basia Thomas & Jaireus McClain, the Langford Scholarships
Michael Sparks, the Theresa Antoon Music Scholarship
DIVISION OF SOCIAL SCIENCES & HISTORY SCHOLARSHIP WINNERS:
Devin C. White, the Jim Armishaw Award
DeAndra Smith, the Howorth Award
Alex Cochran & Will Collum, the William Bryant and Madge Moore Scholarships
Catherine Carver, The Albert Nylander Award
Mikel Sykes & Katherine Jackson, the Ethan Schmidt Memorial Scholarships
Paxton Stratton, Biles History Award
Matteo Zengaro, the Cash U. S. History Award
Carrie Webster, the Cranford History Teacher Award
Alexis Danielle Banks, the LaForge Memorial Scholarship
Erin Newman, the Lamar Phi Alpha Theta History Scholarship
Alexander Bucklew, the Cash History Scholar
Laura Kate Fortner, the Judge Ed & Margaret Green Scholarship
Jonathan Harwood, the Burrell Scholarship
DEPARTMENT OF SPEECH & HEARING SCIENCES SCHOLARSHIP WINNERS:
Adrian Rose Dill & Samantha Lejeune, the Fugler-Hafter Scholarships