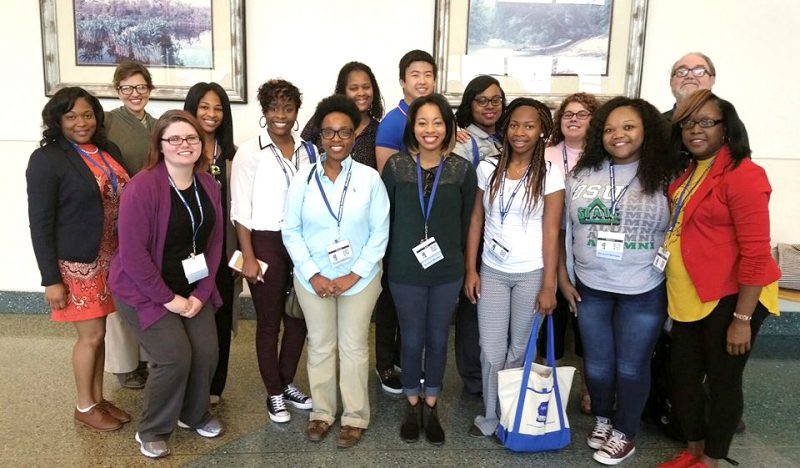 Photo (left to right): From left to right: Moira Fair, Cat Vincent, Janet Sheffield, Darkemia DuBose, Erica Sims-Dumas, Aaliyah Jones, Loleta McKnight, Ryan Kwan, Jana' Slay, Nicki Norman, Rodericka Robinson, Chelsey Haik, Kaislynn Archie, Dr. George Beals and Helen Jones.
Last month, 13 Delta State counseling graduate students attended the annual Mississippi Counseling Association Conference held in Biloxi, Mississippi. Eleven students volunteered as facilitators for the sessions and helped with the registration tables.
The Delta Sigma Upsilon Chapter of Chi Sigma Iota, an international honor society for counseling students, professionals and educators, had fundraisers to sponsor counseling students' transportation. The DSU-CSI chapter also volunteers for the DSU Woodall Spring Conference each April which helps cover hotel accommodations. For their MCA volunteer service, students were able to attend at a reduced registration rate.
"We are grateful and honored by MCA in their selection of our students to volunteer," said Cat Vincent, co-sponsor of Delta Sigma Upsilon. "Our counseling students stepped up to the plate in demonstrating their abilities as leaders and budding professionals. They brought a positive presence to their volunteer work and were self-motivated in helping whenever necessary."
As is common with instituting new procedures and technology, the conference had some bumps in the road with Internet access and the new continuing education app.

Carolyn Anderson, MCA executive director, said, "Without the help of the Delta State University graduate students, I do not believe the Mississippi Counseling Association would have had a successful conference. I look forward to working with DSU students in the future. They certainly saved the day with our new system of scanning and keeping track of attendance."
"Serving as a volunteer at MCA, I was afforded the opportunity to grow both personally and professionally, " said Darkemia DuBose, president of Delta Sigma Upsilon, local chapter of the Chi Sigma Iota honor society. "I've gained an immense amount of knowledge and learned the importance of advocacy within a professional organization. Attending MCA was such a rewarding experience."
Learn more about counselor education at Delta state at http://www.deltastate.edu/college-of-education/counselor-education-and-psychology.