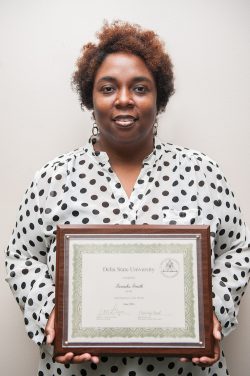 The Delta State University Staff Council recently honored Tarnisha Smith, coordinator of university facility reservations and calendar, as the June 2016 Employee of the Month.
Smith, a native of Drew, has been working in the Office of Student Life since 2013.
"I was completely shocked when I received the award," said Smith. "I really feel like Delta State is home, so this was just icing on the cake for me."

Outside of work, Smith enjoys spending time with her children and family.    
Each Employee of the Month winner receives a plaque, monetary award, WalMart gift card from the Student Government Association, an engraved insulated coffee mug, a free parking decal courtesy of the Campus Police Department, a box of treats from The Sweetery, a parking spot of their choice, marquee announcement and website recognition.
For an archived list of previous winners, visit http://www.deltastate.edu/about-dsu/administration/staff-council/staff-council-employee-of-the-month/employee-of-the-month-archives/
Delta State's Staff Council serves as a liaison between the administration and the staff to provide a formal process for staff to discuss issues involving university policies and procedures and to forward ideas, recommendations and opinions to the president.