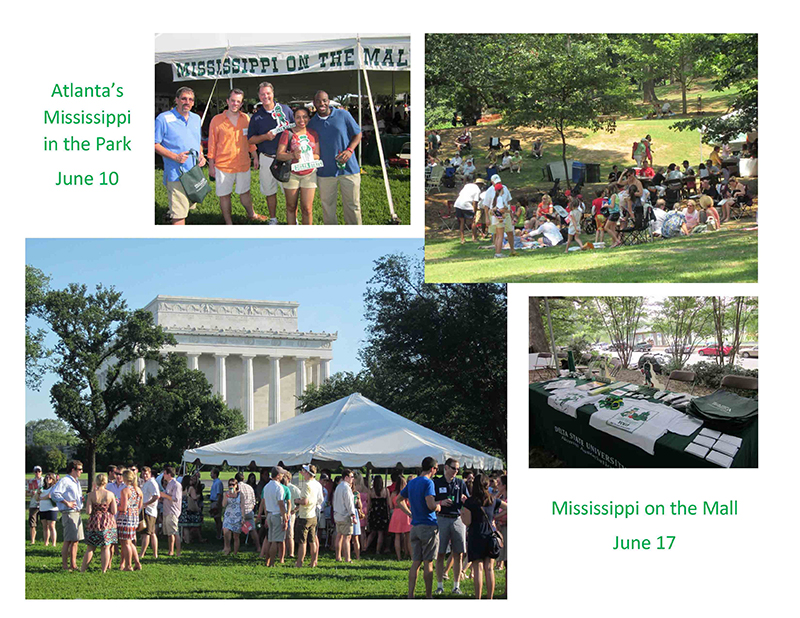 The Delta State University National Alumni Association is gearing up to visit alumni and friends this summer at Atlanta's Mississippi in the Park on June 10, as well as the Mississippi on the Mall event in Washington, D.C. on June 17. All Delta State Alumni and friends are invited to attend the events and visit Alumni staff at the Delta State tent.
Atlanta's Mississippi in the Park, hosted by the Mississippi Society of Georgia, is sponsored annually by various alumni associations from Mississippi schools and Mississippi businesses. At Chastain Park in Buckhead, guests will enjoy live music entertainment while dining on a Mississippi catfish lunch. During the picnic, the society will announce the winner of a $1,000 scholarship for a class of 2017 Georgia high school senior to attend a four-year Mississippi institution in the fall of 2017.
For more information about the event, visit www.mssocietyofga.org.
On June 17, Alumni staff will be present at the Mississippi on the Mall event in the nation's capital, connecting with Delta State alumni and friends living in the area. All things Mississippi will be celebrated at the event, which will be held at the Henry Bacon Ball Field at the northeast corner of the Lincoln Memorial.
Mississippi on the Mall is hosted by the Mississippi Society of Washington, D.C., whose funding consists of dues paid by Mississippi society members and donations from Mississippi based businesses and universities.
Additionally, the National Alumni Association is excited to announce dates recently added to the event calendar. The Greater Jackson Alumni Chapter will hold their meeting on July 13 at the Jackson Yacht Club. On Aug. 1, the Leflore County/Greenwood Alumni Chapter will hold its meeting at the Museum of the Mississippi Delta. The DeSoto County Alumni Chapter will meet on Aug. 12 with additional details to be announced.
Save the dates for this year's big Alumni events: Pig Pickin' (Oct. 7) and Homecoming (Nov. 11.)
For more information on the National Alumni Association, call 662-846-4660 or email alumni@deltastate.edu.
To stay up to date on the Alumni Association's activities, follow these social media sites: Facebook (Statesmen Graduates), Twitter (@DSU_Alumni), LinkedIn (DSU alumni), Instagram (dsualumni) and You Tube (dsualumni1)