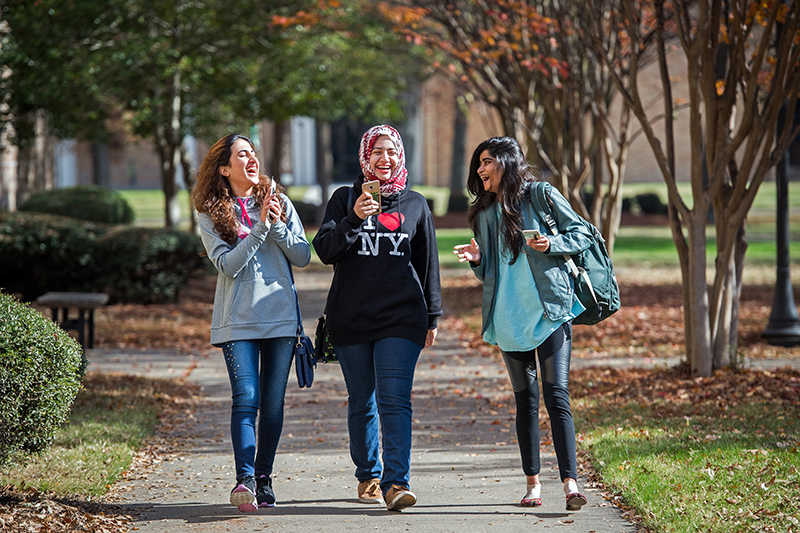 2017 Global UGRAD-Pakistan students (left to right): Husinah, Ayesha and Hadia.
Delta State University is pleased to welcome three new international students this semester as part of the U.S. Department of State's Global Undergraduate Exchange Program in Pakistan (Global UGRAD-Pakistan).
Joining the Delta State community and international family are Husinah, Ayesha and Hadia. The Global UGRAD-Pakistan program is coordinated through the Delta State International Student Services, a division of the Student Success Center.
The program, which places participants at U.S. colleges and universities, is part of broader U.S. Department of State's efforts to promote a better understanding of the United States abroad, particularly among future world leaders.
"The program allows talented, highly-motivated undergraduate students from underserved populations across Pakistan to spend one semester at a U.S. college or university," said Elise Mallette, coordinator of International Student Services.
Through academic study, exploration of U.S. culture, participation in community service projects, and interactions with Americans in their host communities and campuses, Global UGRAD-Pakistan students develop a broad and nuanced understanding of American culture and values, and go on to share this understanding of the U.S. with friends, family, fellow students and others upon their return to Pakistan.
"This has been an awesome experience beyond my expectations," said Hadia. "This is my first time out of my home country, so being here has allowed me to learn about people from different backgrounds. Coming to Delta State and learning about American culture has been such a special opportunity."
Amir said she has enjoyed learning in a new environment.
"The best thing about studying here is being able to learn in a different culture," said Husinah. "I have learned that the methodology for teaching is very different in America, but I've really enjoyed it. I find that things are taught more practically, and I like that methodology."
Global UGRAD-Pakistan students also enrich the learning experience for American students by sharing their unique perspectives and backgrounds. The program is part of the U.S. Department of State's Bureau of Educational and Cultural Affairs, and is implemented by the International Research & Exchanges Board (IREX).
Since 1968, IREX has embraced a people-centered approach that maximizes human potential and helps people promote positive lasting change. With an annual portfolio of $80 million, IREX maintains presence in over 100 countries with innovative programs that empower youth, women and girls; cultivate leaders; strengthen institutions; and extend access to quality education and information.
"I've really been impacted by all the Southern hospitality we've received," said Ayesha. "I heard about Southern hospitality before we came, but being in Mississippi, I've really experienced it. We've felt that from our classmates, but even from people in the community too. Everyone is so welcoming and makes us feel like family."
For more information, contact DSU International Student Services at international@deltastate.edu.
SaveSave