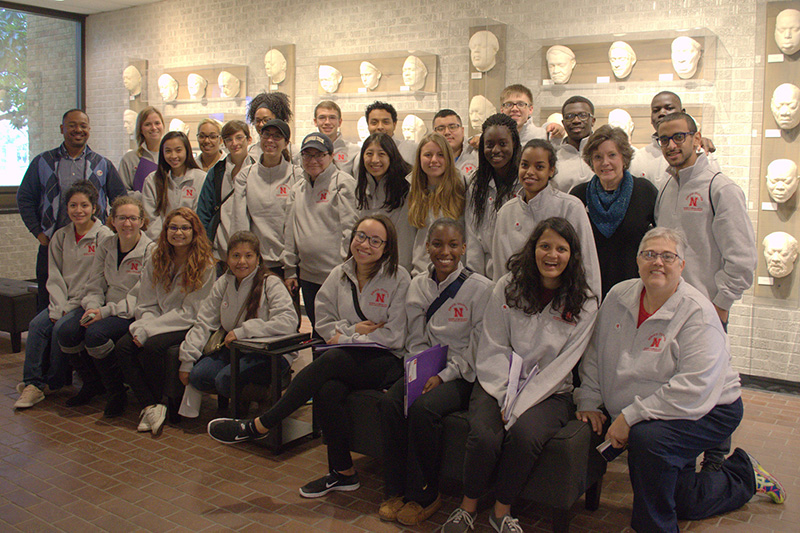 The Delta Center For Culture and Learning at Delta State University recently hosted a group of 25 students from the University of Nebraska-Lincoln's Service-Study ASB during their "Civil Rights: Past, Present, & Future" experiential learning tour of the South.
The group was treated to a cultural immersion experience led by Lee Aylward and Dr. Rolando Herts of The Delta Center. Their experiential learning day included a historical and programmatic overview of The Delta Center, Delta State and the Mississippi Delta region.
The group started their day at Ewing Hall and visited culturally significant landmarks including Dockery Farms, the Fannie Lou Hamer Memorial Garden in Ruleville, the historic black town of Mound Bayou, the home of civil rights activist Amzie Moore, and the legendary rural juke joint Po Monkey's Lounge.
Dr. Linda Moody, director of service learning in the University of Nebraska-Lincoln's Center for Civic Engagement, brought the group of students to the Delta based on the reputation of The Delta Center's "Most Southern Place on Earth" workshop funded by the National Endowment for the Humanities.
"We were referred by a faculty member at Nebraska whose spouse attended the workshop a few years ago," said Moody. "Their experience was so positive, so impactful. That referral has resulted in our program bringing students to The Delta Center and the Mississippi Delta for the past four years."
Service-Study ASB places teams of college students in communities to engage in service and experiential learning during their summer, fall, winter or spring breaks. Through this program, University of Nebraska-Lincoln students learn about issues relevant to their local communities, such as poverty, civil rights, racism, immigration, literacy, hunger, homelessness, and the environment. Service projects have included Habitat For Humanity and disaster relief.
In addition to Cleveland, the group also spent time in the lower Mississippi Delta touring Vicksburg Military Park. After departing the Delta, the students traveled to Alabama to visit the Birmingham Civil Rights Institute, the Southern Poverty Law Center in Montgomery, and the Edmond Pettus Bridge in Selma where voting rights activists marched in 1965, leading to the passage of the Voting Rights Act.
"Our civil rights tour of the South is not complete without visiting the Mississippi Delta," added Moody. "The Emmett Till tragedy launched the modern Civil Rights Movement, and Fannie Lou Hamer is a voting rights icon. The Mississippi Delta is ground zero and provides such a meaningful place-based context for this experiential learning program."
The mission of The Delta Center is to promote greater understanding of Mississippi Delta culture and history and its significance to the world through education, partnerships and community engagement. The Delta Center serves as the management entity of the MDNHA and is the home of the International Delta Blues Project. For more information, visit www.deltacenterdsu.com.