CLEVELAND, Miss.— A national champion, five Top 10 finishes and a top adviser award were the impressive results for members of Delta State University's Phi Beta Lambda (PBL) Chapter who represented the state recently during the 2022 Phi Beta Lambda National Conference in Chicago.
Phi Beta Lambda is a national business education association for students interested in careers in business and business-related fields. Eight Delta State students attended the national conference as representatives for the Mississippi PBL after placing in 13 categories during the 2022 Mississippi PBL State Leadership Conference earlier this year.
Earning the title of national champion by placing first in the Social Media Marketing category was Erica Keller, a recent Delta State graduate who earned a Bachelor of Applied Science in Management and Marketing. Keller also placed eighth in sales presentation during the competition.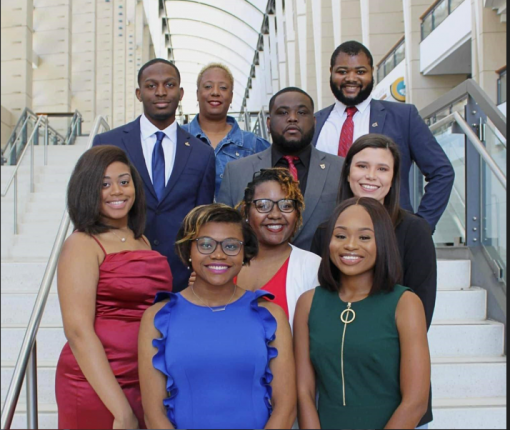 Other Top 10 winners from Delta State included Synethia Mathews, a recent Computer Information Systems & Marketing graduate who placed fourth in the Community Service event; Mathews and Jasmine Evans, a Master of Education Counseling major, who placed 10th in the Business Ethics category; and Finance major Christopher Clanton who placed 10th in both the Personal Finance and Public Speaking events.
In addition, Dr. Tomeka Harbin, faculty adviser for Delta State's PBL Chapter, was named the Local Mississippi Outstanding Adviser of the Year.
Each state is eligible to nominate one local adviser to be recognized at the National Leadership Conference for exemplary leadership, significant contributions to the development of PBL members and belief in the goals of PBL and business education.
"The dedication and persistence of these students is to be commended," said Harbin. "They study and prepare for competition outside of their academic responsibilities, and they continue to do so with excellence."
Future Business Leaders of America-Phi Beta Lambda, Inc. (FBLA-PBL) is the oldest and largest national organization for students preparing for careers. FBLA-PBL prepares students for "real world" professional experiences. Members gain the competitive edge for college and career successes. More than a quarter of a million students participate in this dynamic leadership organization.
To learn more about the organization, visit www.fbla-pbl.org.