CLEVELAND, Miss.—As the world's longest hiking-only trail, the Appalachian Trail spans 2,193 miles. Three Delta State University alumni and one current student will tackle the six-month journey with their five dogs starting Feb. 23.
Raina Stiffler Burgin ('12, '19), Marshall Burgin ('15), Olivia Dick ('20) and Merritt Burgin (expected April 2021) have been training for months to undertake the trail that encompasses 14 states from Maine to Georgia.
Individually, the four are hiking the Appalachian Trail for different reasons, but they are all seeking clarity, as they each try to navigate the next steps in their respective lives.
Preparation for the trail started about a year ago and has included a lot of walking, dog training, gear research, backpacking trips to test gear, watching YouTube videos and budgeting.
Marshall explained, "We are taking five dogs with us and have been working really hard at making sure they have trail manners. Our dogs are extremely active and quick learners, so it has been a lot of fun training them up with some trail etiquette. Any chance we get to go backpacking or camping, we test out our gear to see where we need to make adjustments or where we can cut weight."
The "itch" for adventure was sparked in Raina, Marshall, and Merritt while participating in Delta State's outdoor education program.
The Outdoor Recreation Education Program (OREP), the state's first program of its kind, is an academic/experiential learning program for outdoor recreation adventure activities.  Expeditions in canoeing, sea-kayaking, rock climbing, white water rafting, mountain biking, snowboarding/skiing, backpacking, and workshops/clinics are offered at DSU.
When asked how the OREP contributed to their decision to take on the Appalachian Trail, Raina said she was hooked on the first day of her first trip.
"My first trip with (OREP Director) Todd Davis was the sea kayaking trip at Lake Ouachita. I had never been kayaking or overnight camping, and it was the door I needed opened. I have always loved the outdoors, but I had never experienced a life outdoors in this way. Marshall and Merritt were both on this trip, and I knew from that day forward that we would have many more outdoor experiences together."
Raina continued, "Delta State was and always will be home to us all. I think I speak for all of us when I say, Cleveland is a special place that helped us become the people we are today. Delta State is where we all really grew up, where we became adults who made decisions truly for ourselves. Delta State is where we were able to dive into ourselves but with a really great community surrounding us. Delta State made us strong."
Dr. Todd Davis, assistant professor in HPER and director of the outdoor recreation program, said this journey is monumental and awe-inspiring.
"When you're the director for an outdoor adventure program, you have this dream that your students will take the skills you've enabled, and then watch them enjoy recreational pursuits on their own." Davis continued, "I never dreamed this big or imagined some of my students would take life challenges to the next outdoor adventure level."
To inform the public about their upcoming adventure, Raina, Marshall, Olivia, and Merritt will participate in a live Zoom meeting with DSU's Outdoor Recreation program on Tuesday, Feb. 16 at 7 p.m. All are invited to attend virtually as these four Statemen discuss their goals, fears, and concerns about the trip, as well as participating in a Q&A session.
Click here to register for the Zoom event.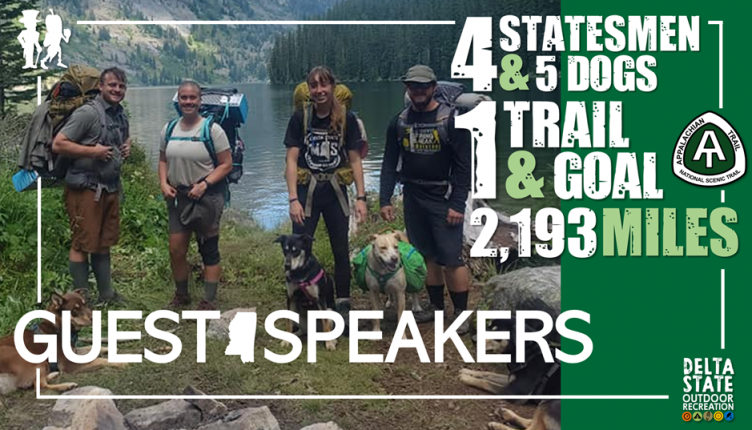 For those interested in following along with their journey once it starts, follow them on social media.
Instagram: @rain_maka, @livylu02, @theivmerritt, @marshal_ware_
TikTok: @passinblazes, @thathippiefromms
YouTube: Passin Blazes
Learn more about the foursome:
Raina Burgin played softball at Delta State and coached as a graduate assistant and later a full-time assistant coach for the Lady Statesmen. She graduated with a Bachelor of Science in Psychology in 2012 and a Master of Education in Counseling in 2019.
Marshall Burgin, Raina's husband, played three seasons of football and worked with the intramural staff while at DSU. He graduated in 2015 with a Bachelor of Science in HPER with a focus in recreation leadership and a minor in coaching.
Olivia Dick was a starting centerfielder for the Lady Statesmen softball team from 2016-2020. She was a member of Kappa Delta, Student Athlete Advisory Committee, and a Homecoming maid. She was awarded the Charles S. Kerg Award, which is awarded to the top male and female student-athlete at DSU, and graduated in 2020 with a Bachelor of Science in Biology and a double minor in chemistry and marketing.
Merritt Burgin, Marshall's younger brother and Olivia's boyfriend, will graduate in April 2021 with a degree in recreation administration and a minor in history.