Freelance illustrator/artist and Delta State University alumnus Allen Morris '14 displays such a passion for exploring foreign worlds that he recently won a quarterly Illustrators of the Future Award. The Cleveland native will travel to Hollywood, Calif., on April 5 for the occasion at the L. Ron Hubbard Writers and Illustrators of the Future Awards, which honor new and emerging talents in the science fiction and fantasy genres.
"I really didn't expect to win because it's an international competition," said Morris, now based in the Seattle area. He's one of a dozen illustrators who will be cited at the event—and who hope to win the grand prize, the L. Ron Hubbard Golden Brush Award, and $5,000 in addition to the kudos and $500 they've already received.
Since the illustrators contest began in 1989, 334 illustrators have won recognition of one sort of another. (The writer contest began in 1984, with 484 receiving honors.)
"I spent a lot of time with games and books" as a child, Morris said about how he developed an interest in illustration. "The games a lot of people in the '90s did were getting a little cooler and I would look at a lot of the art and be really inspired by that. I would read books and be more interested in the cover or almost just as interested. That's kind of where it blossomed."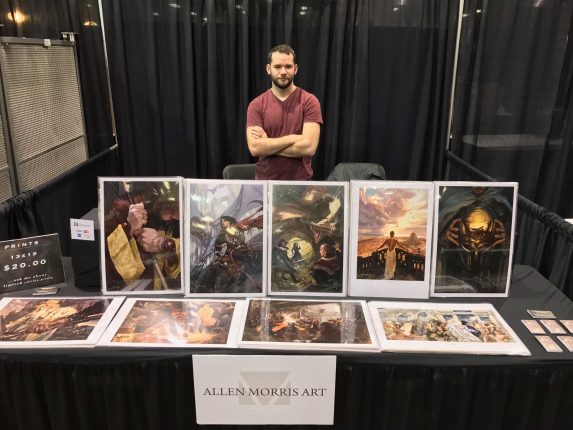 Delta State Department of Art Chair Michael Stanley called his former student "an incredibly talented artist. The skills he learned in the Art Department have helped him achieve this goal, but his dedication and work ethic are really what made this possible. I am so glad that the jurors recognized his talent, which puts him among the best in the world, and I know this is just the beginning for Allen. It has been a real pleasure to watch him mature as an artist and I can't wait to see what he does in the future."
While in Hollywood, Morris will participate in a one-week workshop with leading illustrators, including Larry Elmore, whom Morris calls "the father of modern fantasy" and an illustrator for one of his dream projects: Dungeons & Dragons.