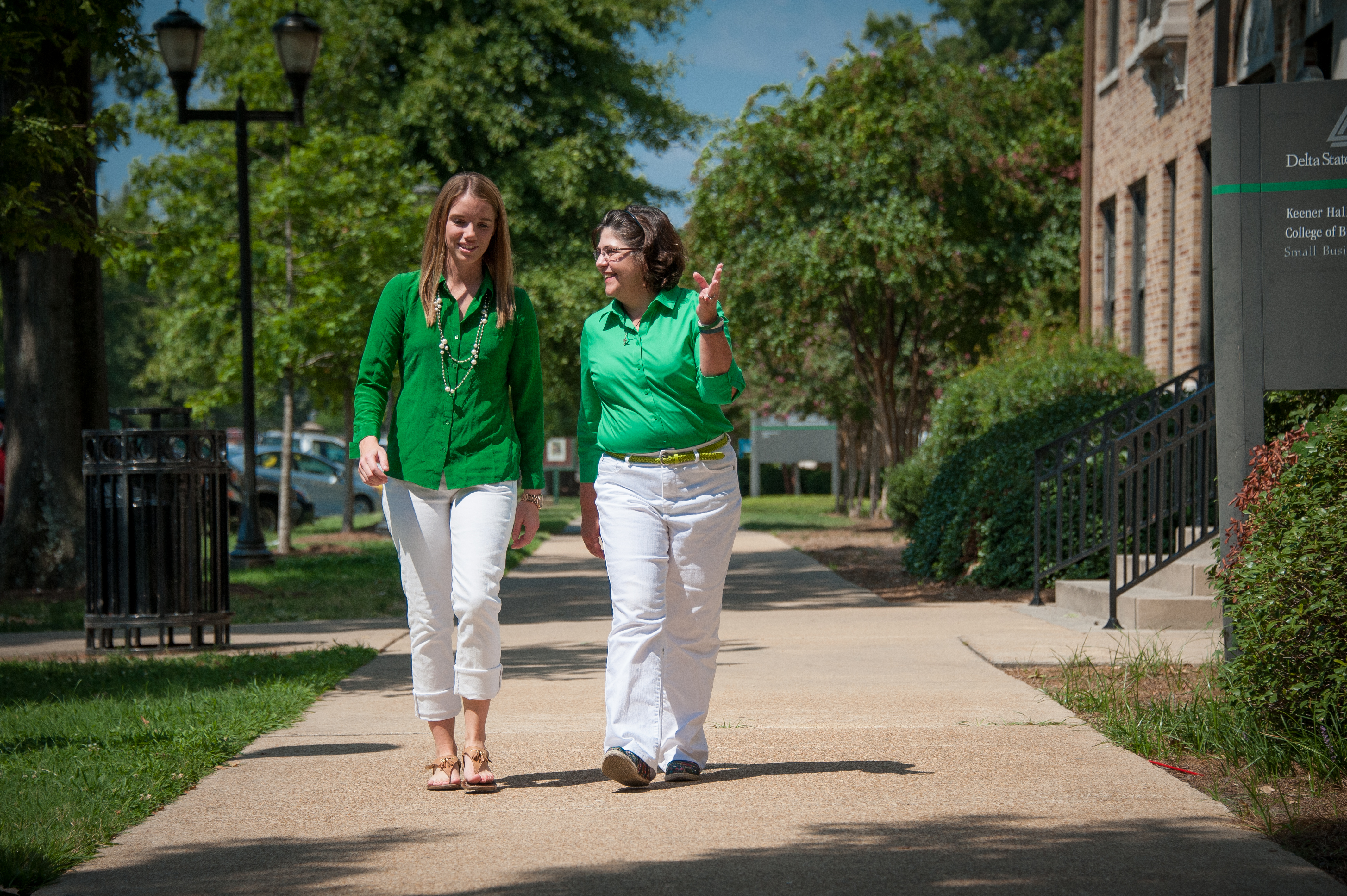 Many Deltans call the smallest of towns home, but that doesn't stop them from reaching great heights at Delta State University.
Senior Student Government Association President Sydney Hodnett and Anne Weissinger '81, president of the Delta State University Foundation Board, both play leading roles for significant university committees. Both ladies also come from small-town Rolling Fork, Miss., where their connections run deep.
Weissinger taught Hodnett Spanish at Sharkey-Issaquena Academy and also coached Hodnett to multiple tennis championships during her high school career.
"I'm absolutely crazy about Sydney," said Weissinger. "She is a wonderful team player, athlete and an excellent student.
"I'm so proud of her — it's like wanting your own child to do well. I've loved watching her blossom and become the person she is today because of Delta State. She has really matured into a very poised young woman."
Hodnett said it took her some time to adjust to a school with more students than her hometown population, but she quickly learned she wanted to be a leader.
"At first I thought how in the world am I going to fit in with 4,000 people on campus," said Hodnett. "But after a little while, I started inching my way into more and more activities each semester.
"I think it goes back to coming from a small community and being used to playing a role in everything. If you're from a small Delta town, you have to hold a lot of responsibilities."
Weissinger can also relate to being a front-runner at Delta State. She has served on the Foundation Board for nearly a decade and has been the president for the past year.
Delta State has been in her blood since receiving her master's in education in 1981. Hodnett even remembers Weissinger pushing hard for her students to attend the university.
"I'm committed to Delta State and the Foundation because I'm committed to the Delta and improving the rights of citizens, especially children," said Weissinger. "Delta State offers great opportunities. As Delta State University goes, so goes the Delta."
Weissinger has fallen in love with educational opportunities at the school — so much that she is still enrolled in classes pursuing a degree in Spanish.
"I just can't quit," she said. "I really found myself in a lot of ways at Delta State when I first came here as a graduate student. I've had so many great teachers and great experiences."
And different generations within her family have found the same fondness of Delta State, including her mother, two sisters, two children, a niece and hopefully her grandchildren in the future.
Hodnett's family can also relate to generational Statesmen, as her mother and grandmother also attended.
"I guess you can find the same welcoming hospitality and atmosphere on campus that exists in Rolling Fork," said Hodnett. "Both places have that Delta pride."
Both role models take pride in their small-town upbringings and hope for many more years of leadership at Delta State.
Learn more about the SGA at http://sga.deltastate.edu/index.html and the Foundation at www.deltastategiving.org.