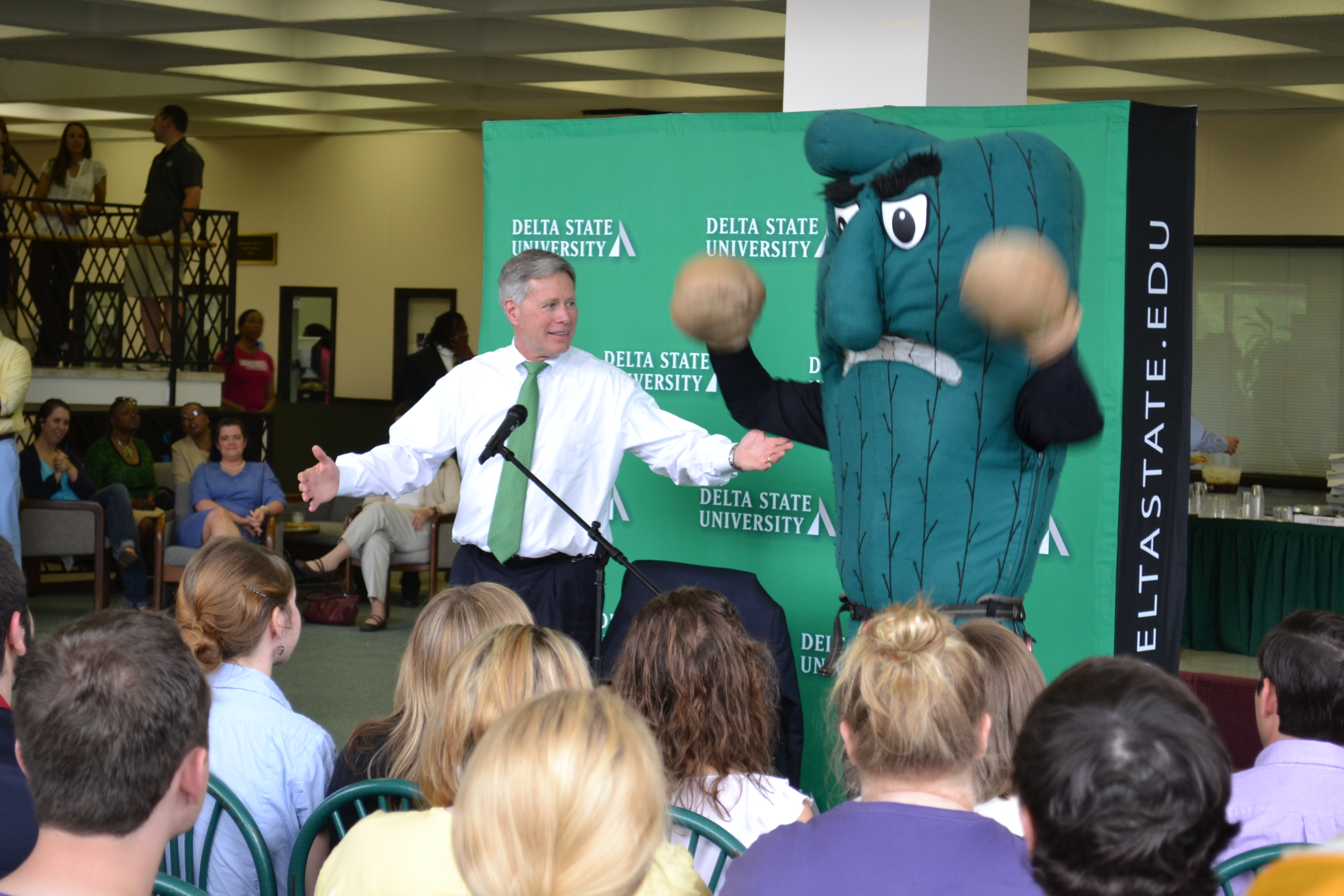 Delta State President William N. LaForge, on the second day of his presidency, was welcomed by the student body with an impromptu flash mob during an open discussion forum on Tuesday, April 16, in the H. L. Nowell Union.
A standing-room-only crowd of students packed the second floor lobby to participate in the forum with the new president. LaForge addressed a number of questions before one student stood and asked how he felt about the Fighting Okra. As he began to answer, a student deejay blasted "Let's Get It Started" by the Black Eyed Peas, and the Fighting Okra mascot rappelled from the roof of the Union into the second-floor lobby where the discussion was being held. Cheerleaders in the crowd broke out into dance.
The music faded into Alicia Keys' "New Day," accompanied by drummers from the Delta Music Institute. The Fighting Okra and the cheerleaders continued to dance as a student vocalist began to sing the inspiring lyrics. Many students in the crowd were caught up in the excitement and began dancing along with the performers.
As the dancing moved closer to LaForge, the president smiled and joined in to the delight and applause of the crowd. After a few spirited minutes, the music faded, and LaForge and the Okra gave each other a big high-five. As the students returned to their seats, LaForge jokingly commented, "After (being on the job) a day and a half I thought I was in charge, and now I know I'm not."
LaForge fielded questions ranging from facility improvements and budget cuts to student recruitment and retention. The event was well-received by the students, and the overflow crowd and excitement of the day was a positive kickoff to LaForge's tenure as president.