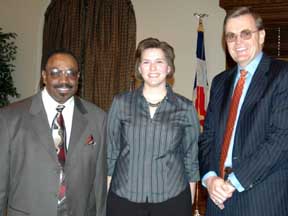 Dr. Billy C. Moore, Dean of Delta State's College of Business, and Jamye Long, DSU Instructor in International Management, pose with David Abney, President of UPS International and 1976 Delta State graduate.
It had been almost 29 years since Delta State University alumnus David Abney stepped foot into Broom Hall on the DSU campus. But Thursday, Oct. 27, Abney returned to the building that housed then and still continues to house many of the College of Business courses.
While he has returned to campus several times since his 1976 graduation, Abney had not visited the building he, as a business administration undergraduate, spent so many hours preparing for his current post as President of UPS International.
"I'm sure the administration would love for me to say that I was an ideal student, but I was not. I did exactly what was required of me, but nothing more," Abney joked as he addressed a crowd of over 350 Delta State faculty, staff and students inside the State Room of the H.L. Nowell Union Building.
Abney delivered a riveting keynote address as part of the Delta State University's College of Business annual lecture series.
"What I do remember about Delta State University and what I see has not changed is the education with a personal touch," the Greenwood native continued. "Delta State University gave me confidence and taught me how to learn."
Both assets he has used daily in his climb to the top of the business world. As President of UPS International, Abney is charged with the strategic development and management of UPS's international package division. As part of UPS's Management Committee, Abney is also responsible for overseeing UPS's international package services within the United States.
Abney spoke to the qualities it takes to become a successful leader in the market place, emphasizing the constant need for self-education and self-assessment. "You are good, but are not good enough," he maintained. "The business world is changing at 100 mph. While you may be fully-equipped today, you will not be fully-equipped tomorrow. It is your responsibility to constantly train yourself, to stay current."
To that end, Abney admitted to reading over three daily newspapers each morning and over 20 magazines a month, offering, "If I don't know, I would bet my competitor knows. I've got to stay current and stay up to the minute."
A 30-plus year veteran of the UPS Corporation, Abney has never dreaded one day of work, offering, "Each day is like the Super Bowl to me and I want to win everyday."
He shared his own philosophy of "living up to your potential, believing in yourself, and holding yourself accountable," counseling those in attendance to, "Ask yourself, do you know? Should you know? Only you really know."
To close the lecture series, Dr. Billy C. Moore, Dean of Delta State's College of Business, and Jamye Long, Instructor in International Management, presented Abney with a small token of their appreciation for his visit.
Earlier this year, Abney and his wife, Sherry, made a generous gift to the University, which will help to enhance the International Business and Development program, a new program introduced this fall under the Division of Management, Marketing and Business Administration. This program is designed to prepare students for the constantly expanding world of business.