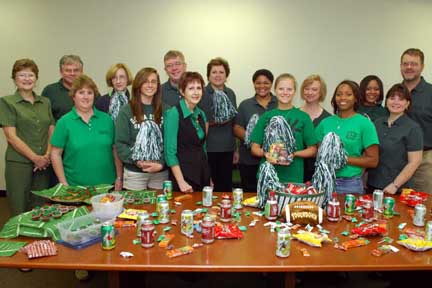 The Delta State College of Education celebrated the "Green Out for the Blazers" football game held Thursday,Oct. 1, where students, faculty and staff and other fans are encouraged to wear green. Free food and drinks were offered tothose wearing green to class.
Pictured are: (front row, from left) Elaine Lambert, Cheryl Cummins, Rachel Scott, Jan Haynes, Barbara Marsh, Ashley Chism, Phyllis Howell, (back row, from left) Duane Shuttlesworth, Jenetta Waddell, Scott Drury, Leslie Griffin, Camesha Benson, Cameron McMillen, Meon Ewing, and Scott Hutchens.
The event was held in Ewing Hall on the campus.