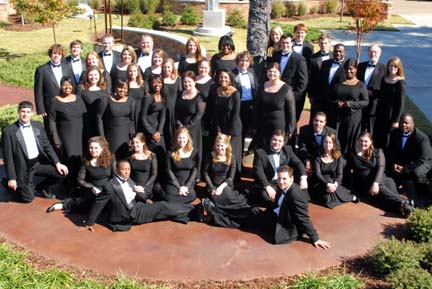 The Delta State University Chorale has been invited to perform at the 2010 Southern Division Conference of the American Choral Directors Association (ACDA) March 10-13 in Memphis.
The performance will be held in the Cannon Center for the Performing Arts, home of the Memphis Symphony Orchestra.
"This is a tremendous achievement for our program. It's the equivalent of going to the World Series, or at least the playoffs," explained Dr. Richard Waters, director of choral activities and Associate Professor of Music. "Choir directors across the country dream of this opportunity for their programs." In order to be invited, the choir had to submit recordings from the last three years. The recordings were then reviewed by a blind audition panel, consisting of directors whose choirs have previously performed at regional and/or national ACDA conferences.
The Southern Division of ACDA includes eleven states: Alabama, Florida, Georgia, Kentucky, Louisiana, Mississippi, North Carolina, South Carolina, Tennessee, Virginia, and West Virginia. Eighty-two choirs from across the region submitted recordings for consideration. Of these, fifteen choirs were selected, including only five college/university choirs. "This is the first time that a choir from Delta State has been invited to perform at an ACDA Southern Division Conference," noted Dr. Waters.
Chorale is the premier choral ensemble at Delta State. The 45-voice auditioned choir is comprised of students from a variety of academic majors across campus. They present several major concerts throughout the year and tour annually. Recent highlights include performances at Carnegie Hall, Washington National Cathedral, York Minster, and the 2007 Mississippi ACDA state convention.
"This is shaping up to be quite a busy year for us," explained Dr. Waters. In addition to their annual fall and spring concerts, the Chorale will collaborate with The Mississippi Chorus and members of the Mississippi Symphony Orchestra in December for a performance of Handel's "Messiah" at the Bologna Performing Arts Center. Plans are also underway for a ten-day tour of Austria and the Czech Republic in May 2010, with performances in Salzburg, Vienna, and Prague.
In recent years, choirs from Mississippi College, the University of Mississippi, and the University of Southern Mississippi have been invited to perform at ACDA conferences. "Choral singing is alive and well in Mississippi," said Dr. Waters. "We are honored to be able to represent Delta State, the city of Cleveland, and the state of Mississippi at such a prestigious event."