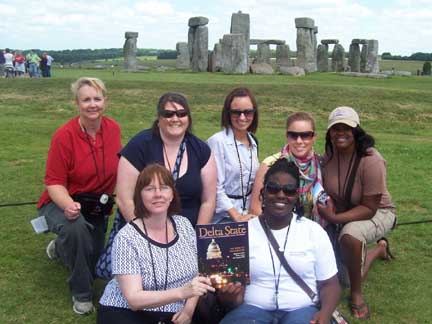 Business Abroad 2009 participants at Stonehenge, England. Front (l to r): Jennifer Ziegelmayer of Cleveland, Curtisha Leslie of Greenville, (back, from left) Dr. Laurie Barfitt of Silver City, New Mexico, Melissa Wilkes of Southaven, Melissa Jones of Lambert, Jennifer Artichuk of Ottawa, Canada, and Slexia Neal of Cleveland
Seven members of the Delta State community traveled to London and Paris June 9-22, to learn more about business in the European Union. The trip was part of the Business Study Abroad program, a new initiative offered by the Delta State University College of Business.
Billy C. Moore, dean of the College of Business at Delta State said, "The goal of the program is to help participants become more globally engaged. Business operates in a global society and we must expose our students to the global business environment. We are very fortunate to have this opportunity and I expect the program will grow as more students understand the importance of international business."
Billy Morehead, chair of the Division of Accountancy, Computer Information System, and Finance at Delta State said, "The Business Study Abroad program began when Jennifer Ziegelmayer, instructor in computer information system, and a couple of faculty discussed the potential benefits of getting our students into other cultures to see that business operates differently from the way we do things in the States.
Several for credit courses were offered, including International Accounting, International Business, and International Marketing. In the end, only the course in Global Information Systems had students registered for credit. It was exciting offering these classes and we look forward to the study abroad program being an annual offering. I am grateful to Ziegelmayer for her leadership in this study abroad program"
The Business Study Abroad program involves taking an annual short-term study tour to expose students and community members to other cultures and business practices. Participants spent two weeks in London and Paris visiting various businesses and learning about the culture and visiting historic and cultural sites. In addition to a return to Europe, future study abroad locations being considered are Turkey, West Africa, and India.
The annual study abroad program is available to all members of the Delta State community including alumni and local residents through the Office of Graduate and Continuing Education. In addition, Delta State students may participate on a for-credit basis at both the undergraduate or graduate level. Students taking the trip for course credit may be eligible for financial aid to assist in the costs.