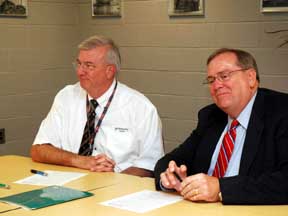 The Delta State University (DSU) College of Business and Mississippi Delta Community College (MDCC) formed a partnership to offer a four-year General Business Administration Degree plan: the 2 Plus 2 Greenville Higher Education Center (GHEC) General Business Administration Partnership.
MDCC will be responsible for recruiting candidates for the degree program, advising the students, offer classes that will enable students to complete the program, consult with Delta State College of Business administration and faculty about the program, and provide facilities, technology and media resources for the DSU classes scheduled at the MDCC-GHED campus and through distance learning.
Delta State will provide the promotion and marketing of the program, advisement of students who have met requirements for enrollment, and consult with the administration and faculty at MDCC.
The agreement will allow students to complete a General Business Administration Degree from Delta State University at the Greenville Higher Education Center without having to come to the Delta State campus.
Dean of Delta State University College of Business Dr. Billy Moore stated "This program demonstrates the commitment of both institutions to fulfill their missions of providing all residents of the Mississippi Delta with access to a quality education."
Photo caption: Mississippi Delta Community College President Dr. Larry Bailey (at left) and Delta State University President Dr. John Hilpert complete the agreement between the two schools with the signing the agreement.