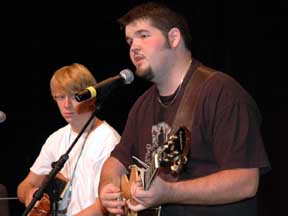 Cody Roth (at left), of Waveland, and Jonathan Upp, of Grenada, work on their original songs for the DMI Summer Music Camp Showcase.
The Delta Music Institute (DMI) at Delta State University will be hosting its third DMI Summer Camp from July 12-18 on the campus
.
The camp is a part of the Janice Wyatt Mississippi Summer Arts Institute program.
The DMI Summer Camp is a six-day interactive experience for a select group of high school students, ages 15-18, to explore three music career tracks, culminating in a studio recording session and a live showcase performance. Students attending the camp are required to send audition materials to apply for admission. College faculty, music industry professionals and specialists will provide hands-on instruction in academic and real-world applications. The curriculum covers the creative process from beginning to end as well as the technical aspects of songwriting, performing and recording to offer campers an intensive taste of the music and entertainment industry.
DMI Director Tricia Walker enjoys the small instructor to camper ratio at the camp and wants to encourage each individual student in his or her creativity. "Growing up in a small Mississippi town, I had the support of my community and my teachers in following my musical dreams. Because of music, I've had the opportunity to travel to places all over the world. Through the DMI Summer Camp, we want to give these young musicians a chance to experience the incredible DMI facilities and help equip and encourage them to work hard and follow their musical dreams."
Some of the topics covered in the camp will be studio recording techniques, MIDI, music theory, songwriting, and performance. Daily instruction will be held at the Delta Music Institute, located in the Whitfield Building, which houses the DMI recording studios, the digital audio lab, and band rehearsal rooms.
The Delta Music Institute is a first step towards a broad program in recording arts and music industry studies. It began with a generous donation by Fred Carl of the Viking Range
Corporation

in 2003. The focus of the DMI is to provide students with a broad and thorough education in the technological, business, and creative areas of the music and entertainment industry.
A free public showcase performance by the DMI campers will be held Saturday, July 18, at 7 p
.
m. in the Bologna Performing Arts Center at Delta State.
For
more

information, call the DMI office at (662) 846-4579, e

–

mail dmi@deltastate.edu, or visit the website at dmi.deltastate.edu.