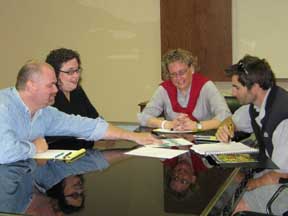 Event organizers, including (l. to r.) John Alvarez, Meg Jones, Rori E. Herbison and Todd Davis, meet to discuss final preparations for the upcoming "Saturdays in the Park." A series of four events encouraging the community "get out, get moving and go to the park," Saturdays in the Park will debut April 25 from 10 a.m. – 2 p.m. at Bear Pen Park. For more information, please e-mail saturdaysinthepark@live.com or phone (662) 846-4555.
It's a brand new concept, and there are always nerves when you take on something like this. You wonder how it will be received, how it will go," admitted Rori E. Herbison, Chair of the recently formed Saturdays in the Park group.

Her wait to see how Cleveland and the surrounding areas will welcome "Saturdays in the Park" to the community calendar is less than two weeks away, with the first in a series of four scheduled events set to debut, Saturday, April 25 at Bear Pen Park in Cleveland from 10 a.m. – 2 p.m.

A collaborative effort between Delta State University's Health, Physical Education & Recreation (HPER) Department, the Center for Community & Economic Development, the School of Nursing and the Department of Family & Consumer Sciences, in cooperation with the Cleveland Park Commission, the Cleveland School District and the Leaders of Delta Health & Wellness, "Saturdays in the Park" started over two years ago with a simple email from Dr. John Alvarez, Associate Professor of HPER, to Herbison.

"It was one of those 'Wouldn't this be a great idea?' emails, but at the time we both had too many committees and events vying for our attention, so that's what it remained – an idea," Herbison continued. "But John was persistent. Every time we'd see one another, he'd add another element to his idea – and they were all practical, doable and inviting. The timing just kept holding us back."

"This year, everything seemed to fall right into place and by Christmas, we had our first meeting," Alvarez added. "It is rewarding to finally see what started as an email become a reality."

Driven by the desire to unite the community in a series of motivating and participatory events at the four city parks, each of the scheduled Saturdays will feature a different theme and approach. The first Saturday will explore outdoor activities, including fishing, canoeing, camping and bicycling and is targeted at children in kindergarten through eighth grade and their accompanying parent or guardian.

Todd Davis, Recreation Degree Program Coordinator and Outdoor Recreation Director at Delta State, is spearheading the first Saturday and is excited with the day's line-up. Participants will have an opportunity to learn about canoeing while in the water at Bear Pen Park, how to set up a tent, how to thread a worm and use a fishing pole, while also learning the techniques used in building a proper campfire, including extinguishing.
"I am always really surprised about how few people actually have not gone camping around here," he asserted. "I want to show through exercises like this that camping is a family-friendly activity. It really can be done by anyone, and more than that, it's fun."

Children will also have a chance to navigate through a bicycle obstacle course, using the safety techniques they learn earlier in the day. "We want to show that besides traditional sports, there are other activities that can bring life-long quality of enhancement."

The events are free and open to all ages. Pre-registration is encouraged for the April 25event, as so equipment can be ordered accordingly.

Future Saturdays will feature different themes, including sports and sportsmanship; pets and pet
care and arts, dance and music. The events are scheduled for the last Saturday of each month, with the sports Saturday set for May 30 at East Side Park. The Pet Saturday will be June 27 at Fireman's Park with the final Saturday of the summer series scheduled for July 25 at Amzie Moore Park.

Each of the other three happenings will run on the same time schedule – 10 a.m. through 2 p.m. Concessions will be available.

For more information on "Saturdays in the Park," please contact the Department of Health, Physical Education & Recreation at (662) 846-4555 or the Cleveland Park Commission at (662) 846-6605.

While this is a new initiative, event organizers are already looking to the future with preliminary plans at work for a similar series in the fall.

"We think this project is important and can make a meaningful impact in our community," insists Meg Jones of the Center for Community & Economic Development. "We are anxious to hear our participant's feedback and see what improvements can be made in the fall."

To become involved with Saturdays in the Park, please contact saturdaysinthepark@live.com.

This is a recognized Delta State University Year of Partnership event.