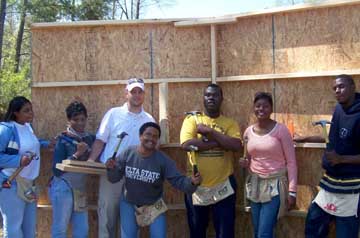 Calandra Porter of Oxford, Teretha Lewis of the Delta Center, Josh Duplantis of USM Service Learning, Melissa Oliver of Clarksdale, Terry Rucker of Crenshaw, LaKendra Jones of the Delta Center,and DeAron Washington of Lexington
Delta State University's Alternative Spring Break Group (ASB) traveled to Hattiesburg during spring break March 16-18, to volunteer in the community.
Alternative Spring Break is a student-led group sponsored by Delta Volunteers, a United Way Agency, which places teams of college students in communities to engage in service and experiential learning.
The students worked with the Hattiesburg Habitat for Humanity with the building and completing of roofs for two different family's storage building. They also volunteered at the Boys and Girls Club.
Delta State students worked hands-on with community volunteers as well as students from the University of Southern Mississippi and the University of Massachusetts.
"After spending three days in Hattiesburg, I have a real skill, I can build a roof! How many people can do that," said Melissa Oliver, Delta State graduate student. "Helping others builds character and strengthens communities."
"I enjoyed the experience of helping others and volunteering in the community to help do things I'd never done before. I meet new people and had a blast. This was a fun experience of a lifetime," said Terry Rucker, Delta State junior.
Delta State junior Calandra Porter said "Being able to help bless other people with things I may already have is a great feeling. Working together and helping others is a great thing to do."
"Alternative spring break was a great experience and I would recommend it to others. The community service was also fun," said DeAron Washington, Delta State freshman.
For more information on how to participate in the next year's Alternative Spring Break or how to volunteer, contact LaKendra Jones DSU Delta Center for Culture & Learning (662)-846-4311.