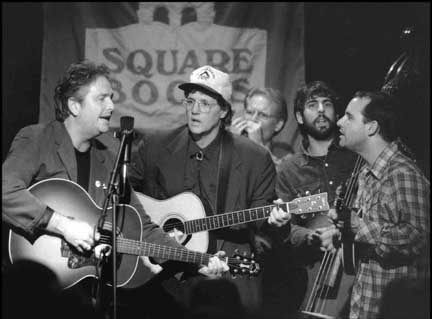 The Yalobushwhackers, Thacker Mountain's house band, featuring Duff Dorrough
As part of the Delta Music Institute's upcoming Grand Opening celebration, the acclaimed Thacker Mountain Radio show will be broadcast live from DMI Studio A on Saturday, March 7 at 3 p.m. in the historic Whitfield building on the Delta State University campus.
Thacker Mountain Radio, in its tenth year, is a live, unrehearsed broadcast that features author readings and a wide array of musical performances. The free show is normally recorded and broadcast weekly from Off Square Books in Oxford, Mississippi, but will relocate for one special show in Studio A at the Delta Music Institute as part of the DMI Grand Opening weekend.
The show was originated by two Southern studies graduate students and has hosted a wide range of talent over the last decade, including musician Elvis Costello and emerging authors Sue Monk Kidd and Rick Bragg. The show has received numerous awards, with one of the most prestigious being the Mississippi Governor's Award for Excellence in the Arts.
The guest author for the special DMI taping of Thacker Mountain will be Clarion-Ledger sportswriter Rick Cleveland, reading from his recent release, Boo: A Life in Baseball, Well-Lived about Dave "Boo" Ferriss, former Boston Red Sox pitcher and long-time baseball coach at Delta State. Coach Ferriss will join in conversation with Cleveland during the broadcast.
Thacker Mountain's house band, the Yalobushwhackers, features the Delta's own Duff Dorrough. Joining the band that day will be former Tangents keyboard player and Delta native Jim "Fish" Michie. They will be backing soon to be announced special musical guests on the show as well as playing featured performances of their own.
Thacker Mountain is hosted by Jim Dees and is broadcast live on Rebel Radio 92.1 FM and then rebroadcast statewide on Mississippi Public Broadcasting at 7 p.m. on Saturdays.
The Delta Music Institute began with a generous donation by Fred Carl of the Viking Range Corporation in 2003. The focus of the DMI is to provide students with a broad and thorough education in the technological, business, and creative areas of the music industry.
The public is encouraged to come be a part of this historic broadcast on March 7 at 3 p.m. as part of the DMI Grand Opening. For more information on the weekend's schedule and events, please call (662) 846-4579 or visit dmi.deltastate.edu.