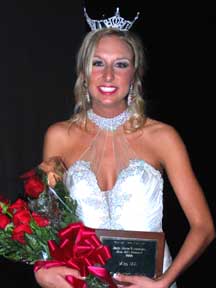 Following an afternoon and night of competition, a panel of judges voted to crown Lacey Mixon as the next Miss Delta State University. A Brandon native, Mixon, 20, is a nursing major at Delta State. For her talent, she performed a Spanish piano medley of "El Toro" and "Malaguena." In addition to the crown, Mixon also was awarded the Career Services Interview Award. As Miss Delta State University, she will compete in the Miss Mississippi Pageant in July. She is the daughter of Sherry Mixon and Stan Mixon, both of Brandon.
Mixon is a student athlete at Delta State. She garnered All American and All Conference awards as a swimmer and also played soccer. She was elected a Junior Maid on the 2008 Homecoming Court.
The 2009 Miss Delta State University Pageant marked the 50th Anniversary of the annual event. Several former Miss Delta State University title holders were recognized and provided musical entertainment during the pageant.
The Miss Delta State University Pageant, produced by the University Pageant Board, a Delta State student organization, and sponsored by the Student Government Association, was held Thursday nightin the Bologna Performing Arts Center located on the Delta State campus.