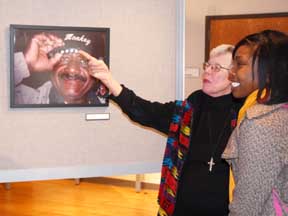 Jane Robbins Kerr (at left) shows Brittany Davis, a Delta State University journalism major of Indianola, a photo of Willie Seaberry, owner of Po' Monkey's Lounge in Merigold, The photo was a part of Kerr's exhibit at Capps Archives.
Kerr presented a lecture and slide show entitled "A Lifetime to Find Home" recently at the Capps Archives and Museum at Delta State. The presentation concluded the three month exhibit of Kerr's photographs..
Kerr, originally from Jackson, now resides in Atlanta. Her slide show included photographs she had taken on trips to Africa, Nepal, India and other distant lands, but also of Mississippi scenes.
Kerr's presentation was held in the Howorth Seminar Room in the Capps Archives and Museum on campus.