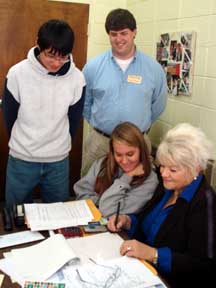 Cooper McCachren (standing at right), a recruiter with the Delta State University Admissions Office, visits with Delta Academy students, Taylor Pang and Crystal Garrard, and Twyla Gist, Academic Counselor at Delta Academy. The students were informed of the availability of a scholarship provided by the Graeber Foundation to assist students from Delta Academy in furthering their education at Delta State University.
Established at Delta State University in December 2005 by the late Lewis A. Graeber, Jr. of Marks, the Graeber Foundation Endowed Scholarship Fund provides scholarships for students enrolled at Delta State.
"The scholarships are available to current and former students of Delta Academy. Eligible students may enroll at Delta State upon graduation from Delta Academy or transfer from other higher education institutions and community colleges," said Twyla Gist. "We are very pleased to have four former students, Lakon Tate from Clarksdale, Kristen Smith, Laura White, and Lindsay Hudson, all from Marks, receiving a Graeber Foundation Scholarship at Delta State.
When making the gift in 2005 to endow the scholarship LewisGraeber, Jr. stated "Delta State University is one of the best schools in Mississippi. Delta State provides the opportunity for a quality education to our children, and it is right here at home."
Delta Academy, located in Marks, will host an Open House in their Library on Thursday, January 22, at 7 p.m. for prospectivestudents and parents

.

For more information on enrolling at Delta Academy and the availability of scholarships to Delta State contact Twyla Gist at (662) 326-8164.