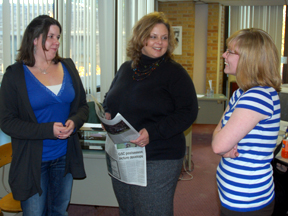 Emily Wagster Pettus (center) speaks with Delta State students Mary Beth Johnson (at left) and Jessica Veazey, both of Olive Branch.
Associated Press Political Reporter Emily Wagster Pettus delivered Delta State University's first John Merrill Lecture on Wednesday, Nov. 19, at 4 p.m. on the second floor east lobby of the H.L. Nowell Union Building on campus.
The lectureship is to honor outstanding working Mississippi journalists and was made possible through the generosity of Dr. John Merrill, Delta State University Class of 1949.
Pettus, a Mississippi journalist and public affairs analyst, covers the state legislature for the AP and has worked in a variety of journalistic capacities in her two decades of experience. According to her press biography, "She is a Californian by birth, a Texan by upbringing and a Mississippian by choice."
Her press biography goes on to state that after graduating from Texas High School in Texarkana, Texas, in 1984, Pettus was an exchange student in what was then West Germany. She spent the year learning the German language from scratch and explaining the quirks and foibles of American culture to her German hosts.
Pettus graduated with honors from the University of Mississippi in 1989 with a double major in German and journalism.
Early in her career, she worked for several newspapers in Mississippi – The Daily Mississippian, The Oxford Eagle, The Vicksburg Evening Post and The Clarion-Ledger. She has been a copy editor for the international edition of USA Todayand has worked as a stringer for Reuters news service and The New York Times. Pettus has worked for The Associated Press since 2001.
She is married to Gary Pettus, a feature writer and columnist for The Clarion-Ledger.
The John Merrill Lecture was established to honor Dr. John Merrill, DSU Class of 1949. It was his generous gift to the DSU journalism program that established the Merrill lectureship to bring working journalists to speak to campus classes. Dr. Merrill, a legendary journalism educator and author, is Professor Emeritus at the University of Missouri.

The event is sponsored by the Delta State University Division of Languages and Literature as part of the Year of Partnerships.