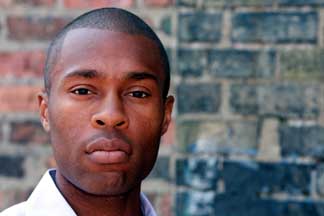 Former Jazz at Lincoln Center and Wynton Marsalis pianist Richard Doron Johnson, will give a recital based on the music of Dockery Farms on Thursday, Sept. 11 at 7:30 p.m. in the Recital Hall of the Bologna Performing Arts Center on campus.
In its early days, Dockery Farms, located just a few miles outside of Cleveland on Highway 8, was a frequent gathering place for musicians such as Charley Patton, Robert Johnson, Howlin' Wolf and Pop Staples, among others. Of Dockery Farms and the blues, B.B. King has said, "You might say, it all started right here."
In Delta State University's "Year of Partnerships," Johnson's performance is sponsored by a partnership between the DSU Foundation and the Department of Music. Johnson first visited Delta State through the generosity of the Thelonious Monk Institute of Jazz, another DSU partner here in the greater Delta.
Johnson is considered one of the top young jazz pianists in the world. He was first introduced to the piano by his father, a church gospel pianist, at the age of five. Born in Pittsburgh, Penn., home to jazz greats Art Blakey, Ray Brown, Jeff "Tain" Watts, and Ahmad Jamal, Johnson has strong jazz roots but is fascinated by the musical possibilities of the Mississippi blues scene.
Upon graduating from Berklee School of Music in just two years, he immediately entered the Boston Conservatory, where he earned a Masters degree in Jazz Pedagogy in 1997. In April 1998, Johnson participated in the Thelonious Monk Institute South American Tour as part of the United States Cultural Presentation at the Presidential Summit in Santiago, Chile. During that year, he also performed with the Monk Institute Sextet led by bassist Ron Carter at the Park Plaza Hotel in New York alongside T.S. Monk and the Jazz Colony.
In May of 1999, Johnson graduated from the Thelonious Monk Institute of Jazz Performance at the New England Conservatory. He was a member of the Wynton Marsalis Septet and the Lincoln Center Jazz Orchestra from 2000-2003. He also was part of Russell Malone's quartet as well as Irvin Mayfield's quintet. In 2001, Johnson led his own trio on a two month tour of South and Central America.
Johnson continues to work extensively with jazz icons such as Wynton Marsalis, Arturo Sandoval, Vanessa Rubin, Bobby Watson, and Herbie Hancock. Currently he has been working to educate youth across America. He has recently completed residencies with Jazz Aspen and the Thelonious Monk Institute. His Reach AFAR "Jazz to Hip-Hop" programs have been extremely popular in Atlanta schools. He is also the former music director for the NBA's Atlanta Hawks.
An accomplished marathon runner, he hopes to work out and talk strategy with Coach Doug Pinkerton and the DSU Cross Country Team while in Cleveland.
Johnson will also be meeting with Dr. Shelley Collins's History of Rock and Roll class. He will talk shop with Music Department and Delta Music Institute students, as well as participants in the Delta Music Heritage Program at Ruleville Central High School, a partnership sponsored by the Thelonious Monk Institute of Jazz, Bill and Carolyn Powers and Delta State University.
The recital is free and open to the public.