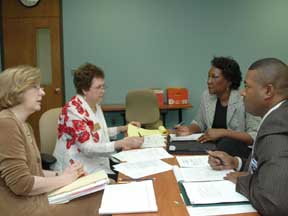 From left: Delta State Division Chair for Teacher Education Dr. Jenetta Waddell; Delta State Dean, College of Education Dr. Leslie Griffin; Assistant Superintendent of Sunflower County School District Dr. Cheryl Pinckney; and Public Relations Coordinator/Grant Writer for Sunflower County School District Carl Brinkley discuss the upcoming Oral History Project.
The Delta State University College of Education, in celebration of the University's Year of Delta Heritage theme, is collaborating with the Sunflower County School District to connect the generations through untold stories.
The project is also supported through grants from The Mississippi Humanities Council and the Wal-Mart Foundation, as well as support from the Delta State University Delta Center for Culture and Learning, directed by Dr. Luther Brown.
Through the project, middle and high school students in Sunflower County schools will be trained to conduct oral history interviews with individuals who came of age or lived during a significant Civil Rights era in the South (1950s – 1960s). The interviews will be produced as a documentary, with future phases of the project to include the development of curriculum to accompany the documentary.