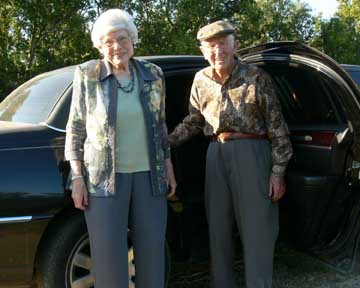 Arriving by a chauffeured limousine, Katheryn Smith and Ellis Smith, of Greenwood, recently came to Scott, Miss., near the site of the historic levee break.
The Smiths were interviewed about the "Great Flood of 1927," by a British television production company that is filming a series of programs about the rivers of the world.
Both Smiths remember the flood vividly, as Mr. Smith served heroically as a rescue captain in the days following the levee break on April 21, 1927, bringing many flood victims from their homes to the high ground on the levee.
The television show will eventually be broadcast in both English and Welsh. The Smiths were put in contact with the production company by the Delta Center for Culture and Learning at Delta State University.
Dr. Luther Brown, Director of the Center, will present a talk on "Great Flood of 1927" at Cottonlandia Museum in Greenwood at noon on Tuesday, Oct. 23. For more information, please call the Museum directly at (662) 453-0925, or Delta State's Delta Center at (662) 846-4311.
Delta State University is currently celebrating its recently declared theme, "The Year of Delta Heritage."