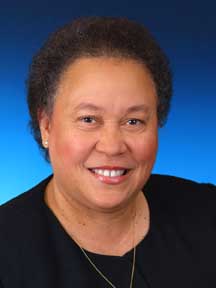 Dr. Belle S. Wheelan
With three either former of current leaders of regional accrediting bodies on the day's program, accreditation seems to be the central theme of Delta State University's 80th Spring Commencement service. To be held Saturday, May 12, at 10 a.m. inside Walter Sillers Coliseum on the campus, Delta State's graduation will feature Dr. Belle S. Wheelan, President of the Commission on Colleges of the Southern Association of Colleges and Schools, as the keynote speaker.
The Commission on Colleges of the Southern Association of Colleges and Schools is the recognized regional accrediting body in the 11 U.S. Southern states (Alabama, Florida, Georgia, Kentucky, Louisiana, Mississippi, North Carolina, South Carolina, Tennessee, Texas and Virginia) and in Latin America for those institutions of higher education that award associate, baccalaureate, master's or doctoral degrees. The Commission on Colleges is the representative body of the College Delegate Assembly and is charged with carrying out the accreditation process.
The first African-American and first woman to serve as President of the Commission, Wheelan's distinguished career spans 32 years and includes the roles of faculty member, chief student services officer, campus provost, college president and Secretary of Education.
She received her bachelor's degree from Trinity University in Texas (1972) with a double major in psychology and sociology; her master's from Louisiana State University (1974) in Developmental Educational Psychology; and her doctorate from the University of Texas at Austin (1984) in Educational Administration with a special concentration in community college leadership.
Over her career, she has received numerous awards and recognition including four honorary degrees; the Distinguished Graduate Award from Trinity University (2002) and from the College of Education at the University of Texas at Austin (1992); "Washingtonian Magazine's"
100 Most Powerful Women in Washington, D.C. (2001); and the AAUW Woman of Distinction Award (2002).
Wheelan holds and has held membership in numerous local, state and national organizations including Rotary International; Alpha Kappa Alpha Sorority, Inc.; the American College Testing, Inc., board of directors; American Association of Community Colleges' board of directors; and the President's Round Table of the National Council on Black American Affairs.
Delta State University is expected to graduate over 500 students during its spring commencement ceremony.
The commencement ceremony is not open to the public, as seating is limited and reserved to the graduates' families and friends only. Each graduate has been allotted six tickets.
However, in an effort to accommodate overflow possibilities, Delta State has arranged for extra seating in the
Jacobs
Conference Center in Ewing Hall on campus. Attendees will be able to view the ceremony through a live-broadcast feed to the auditorium.
For more information on Delta State's 80th Commencement exercises, please contact University Relations at (662) 846-4675.