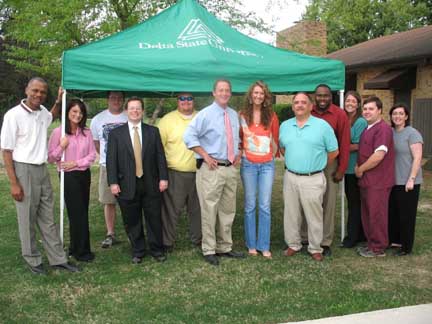 The Bolivar County Alumni Association's Crawfish Boil Planning Committee met recently to discuss the annual "Mudbug Celebration," scheduled for Saturday, April 14. Pictured (l. to r.) Tye Jackson, Rileyann Smith, Jim Ervin, John Cox, Matt Jones, Edward Kossman, Chelsea Shepherd, Bill Quinton, chapter president; Dameon Shaw, Meredith Coleman, Paul Mancini, Callie Towles. Other committee members not pictured include: Ryan Short, vice president; Laura Lee Connell, Ann Holman, Jim Avery, James Glorioso, Ann Giger and David Dallas.
The Delta State University Bolivar County Alumni Chapter will host its annual Crawfish Boil at Shumate Park, Saturday, April 14 at 5 p.m.
Timed this year in conjunction with Spring Sports Day, the Delta State campus will be a flourish of activity, including the Statesmen baseball game at Dave "Boo" Ferriss Field. First pitch of the doubleheader series with Arkansas-Monticello is scheduled for 3 p.m.
The crawfish and other food treats will be served between games, at approximately 5 p.m. As part of this year's Cajun festivities, the Bolivar County Alumni Association will be sponsoring entertainment, including a kid's zone and live music by Spence Melton & the County Line Band of Jackson.
Guaranteed to be a fun-filled, family-friendly event, the day's menu includes crawfish, chicken tenders, sausage, potatoes and beverages. Tickets are $12 for adults; $6 for children (age 5 and under are free). There will also be custom designed t-shirts for sale.
All alumni, friends and community members are invited to attend. For more information on the 2007 Bolivar County Alumni Crawfish Boil, please contact Vicki Fioranelli, Director of Alumni, at (662) 846 – 4660. Attendees are encouraged to stop by the Alumni House, Highway 8; or the Bologna Performing Arts Center Box Office to purchase advance tickets.