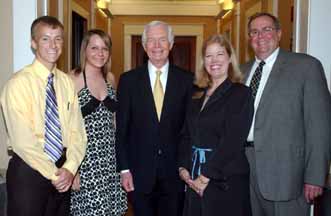 Pictured, l. to r., Adam Lewis; Jourdyn Combs; Senator Thad Cochran; Dr. Lynn Varner, Chair/Director of The Thad Cochran Center for Rural School Leadership and Research and Dr. John M. Hilpert, Delta State President.
In what became a moving and emotional exchange, Jourdyn Combs and Adam Lewis, both Hurricane Katrina evacuees and currently enrolled Delta State University students, personally thanked United States Senator Thad Cochran for the supplemental funding approved by Congress in late December. Meant to aid those students affected by Hurricanes Katrina and Rita in funding their college educations, the monies were a supplement to the already existing Title IV Program LEAP (Leveraging Educational Assistance Program).
Funds were awarded to 102 Delta State students, including Combs and Lewis, in the 2005-06 and 2006-07 school years. Other DSU students receiving these supplemental funds wrote personal thank-you letters to the Senator, which were bound and presented as part of the ceremony dedicating The Thad Cochran Center for Rural School Leadership and Research.
"I really cannot find the words to tell you how thankful my wife and I are for the money we received from the government. Please know that I represent a tremendous number of students who might otherwise be homeless, hungry, and lacking the motivation to improve themselves with an education. Thank you so much, Senator Cochran," Lewis expressed.
The ceremony was held on the Delta State campus in the atrium of Kent Wyatt Hall, Oct. 9.