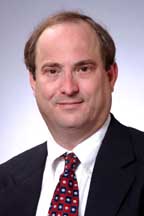 Dr. Charles Wagoner
The collective Delta State University community is again reeling, with the devastating news of Dr. Charles Wagoner's sudden passing. The associate professor of economics passed Saturday morning at his Cleveland home.
Born March 30, 1962 in Laramie, Wyo., Wagoner was raised in Mississippi, and later graduated from The University of Texas. He earned his master's and doctorate degree at Tulane University in New Orleans, La.
Wagoner arrived on the Delta State campus in the fall of 1995, quickly endearing himself as lively, energetic asset to the University and the community. He served on various Delta State committees, including the College of Business' Division Curriculum Committee, the Honors Committee and the Attendance Committee. He, many times, represented Delta State at IHL recruiting day; and just recently completed a commissioned four-county economic impact study for the Delta State Foundation. He was an accomplished researcher and scholar, having been published many times during his career.
"Dr. Wagoner was very devoted to our students, the professoriate and the economics profession. He had a passion for teaching and for challenging the traditional beliefs. He challenged students to defend their positions on economic issues, not trying to convert them to a particular mindset, because he believed his role as a professor was that of a catalyst for critical and analytical thinking," Dr. Billy C. Moore, Dean of the College of Business acknowledged. "His enthusiasm, collegial spirit and passion for life will be missed dearly by the Delta State University family."
A member of the Southwestern Social Sciences Association, Southwestern Economics Association, National Association of Scholars and the Academy of Economics and Finance, Wagoner was equally active professionally and civically. He served in the Rotary Club, Friends of Library, Bolivar County Humane Society and the Governor's Economic Advisory Panel.
He is preceded in death by his parents, William D. and Mary S. Wagoner.
He is survived by his wife of 22 years, Sandra Wagoner of Cleveland; brother, Lawrence D. Wagoner of Picayune; sister, Lauren W. Starr of Pensacola, Florida, and five nieces and nephews.
Memorial services will be held at 2 p.m., Wednesday, Oct. 4, at Ray Funeral Home. Visitation will be held prior to the services.
Memorials may be made to Delta State University Foundation, College of Business, DSU Box 3141, Cleveland, Miss., 38733